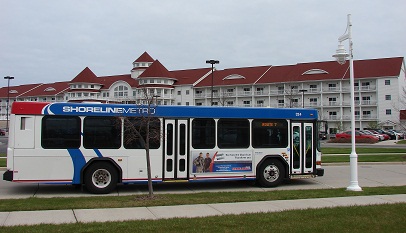 SHEBOYGAN, WI (WHBL) - Shoreline Metro has added a new bus line to help move people about Sheboygan's downtown, lakefront and South Pier districts. City Planning Director Chad Pelishek says the Harbor Center Express bus fulfills a key strategy identified in the recently approved Business Improvement District's Master Plan.
The bus will travel Mondays through Saturdays during the summer months and visit locations such as Blue Harbor Resort, the John Michael Kohler Arts Center, Deland Park, and the Mead Public Library on a half hour schedule. The bus will soon be identifiable by a wrap that will showcase photos of the locations served by the line.
More information on the route can be found online at shorelinemetro.com or calling 459-3281.