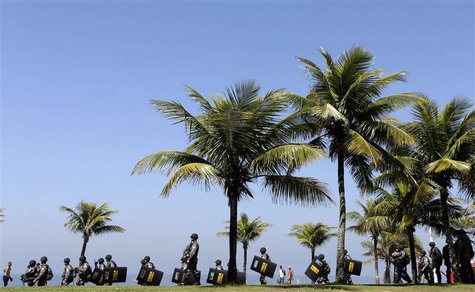 By Jeb Blount
RIO DE JANEIRO (Reuters) - Brazil geared up on Monday to sell production rights to its largest-ever oil discovery in a landmark auction that sparked widespread nationalist protests even though most of the world's premier energy companies opted to stay away.
The government deployed more than a thousand troops around the beach front Rio de Janeiro hotel where the auction will take place, cordoning off streets to prevent protesters from disrupting an event that President Dilma Rousseff has billed as a crowning achievement of an energy plan aimed at ending poverty and vaulting Brazil to the ranks of developed nations.
On offer are production rights to Libra, a massive offshore field that holds between 8 billion and 12 billion barrels of recoverable oil, according to Brazil's oil regulator and Dallas-based oil certification company Degolyer & MacNaughton. Brazil estimates it will receive at least $400 billion in taxes and other revenue from Libra over 30 years, as well as about $7 billion up front from signing fees.
The auction will be the first under a three-year-old legal framework that expands state control over Brazil's most prolific oil region, the so-called subsalt reserves off the coast of Rio that hold billions of barrels of oil under a thick layer of salt beneath the ocean floor. Under the new law, Brazil's state-run oil company Petrobras must lead development of the fields as operator.
Rousseff, who helped conceptualize the framework when she served as energy minister under former President Luiz Inacio Lula da Silva, hopes the windfall from Libra and other subsalt fields will pay for schools, hospitals and other social services that are badly needed in a country known for its income inequality.
"Libra and the subsalt are going to transform our economy like shale oil and gas are transforming the U.S. economy," Energy Minister Edison Lobão told Reuters on Sunday as he arrived at the heavily protected hotel where the auction is scheduled to take place.
"This is opening a new chapter in our history," he said.
Libra is one of a flurry of offshore oil strikes made starting in 2007 in the Santos Basin off Brazil's southeastern coast. If its size is proven, Libra holds enough oil to almost double Brazil's existing reserves or supply every drop of world crude demand for up to 19 weeks.
Yet despite the government's goals and promises, many are against the sale, even though Brazil's new production-sharing model gives the government a direct share of future output.
Oil unions are on strike against it, demonstrators have taken to the streets, and some groups have gone to court to try to stop the auction, calling it a sell-out of precious national resources to foreign interests.
CHINESE AMONG POTENTIAL BIDDERS
Most major oil companies, including Exxon Mobil Corp , Chevron Corp and BP Plc , declined to participate, concerned government rights to dictate investment and development decisions will turn the tens of billions of dollars needed to explore and develop Libra into a loss.
Only 11 companies signed up for the auction, a quarter of the "more than 40" that the head of Brazilian oil regulator ANP, Magda Chambriard, had predicted.
With qualified bidders dominated by Chinese and other Asian state oil companies, some warn that Brazil is staking its future on the good will of foreign governments.
Others worry Libra will further hobble Petrobras, which is already financially overstretched with the world's largest corporate spending plan. Petrobras must take at least 30 percent in any winning group and is selling or delaying potentially more lucrative projects to raise cash to develop Libra.
"Libra's potential is huge and Rousseff is staking a lot its sale," said Cleveland Jones, a geologist with the Brazilian Petroleum Institute at Rio de Janeiro State University. "Unfortunately she put the future of the industry on hold for five years to prepare for this sale and the conditions that led to that sale have changed."
With Brazil's decade-long commodities boom over, economic growth sluggish, inflation high and new U.S. shale oil and gas output raising questions about the future of high long-term oil prices, Libra looks less attractive than two to three years ago.
Unlike previous auctions, Libra is also a production-sharing contract. The winner will be the group that gives Brazil the biggest cut of "profit oil" to sell on its own account. Profit oil is oil produced after paying initial investment costs.
The minimum bid is 41.65 percent. While Brazil has said it expects 75 percent or more, it has also set up a new state company to sell its share of the oil and have a direct say, and partial veto, over how and when Libra will be developed.
State-owned companies such as CNOOC <0883.HK> from China dominate the list of qualified bidders. China National Petroleum Corp , India's Oil and National Gas Corp , Colombia's Ecopetrol SA , Malaysia's state-owned Petroliam Nasional Bmd , or Petronas, and Japanese trading house Mitsui Co <8031.T> are other qualified bidders.
France's Total SA and Royal Dutch Shell Plc paid to get in, but there is a good chance that some of the companies that signed up will not make bids, said Christopher Garman of the Eurasia Group consultancy.
Portugal's Galp Energia SGPS SA and Spain's Repsol SA also signed up, but they have already sold part of their Brazil units to China's Sinopec <600688.SS>. Repsol said on Monday it will not bid in the auction.
(Additional reporting by Sabrina Lorenzi; Editing by Todd Benson and Kenneth Barry)