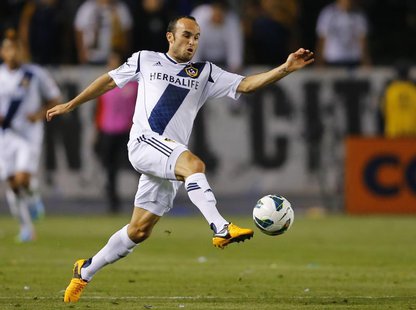 MIAMI (Reuters) - Landon Donovan has resigned himself to being left out of the United States squad for next month's block of World Cup qualifiers, but remains hopeful he can make it to Brazil next year if the team qualifies.
Donovan told Reuters before the squad was due to be announced on Thursday that he was not expecting his name to be included on the playing list.
"As far as I know, I will not be on the roster and that's disappointing," he told Reuters in an interview during his campaign with The Skin Cancer Foundation to promote awareness of the disease.
"But I certainly understand it, I've been gone for a long time. I basically excused myself from the first three so I understand the way the world works."
Despite being the U.S's all-time leading goalscorer, Donovan's omission from the squad for two friendlies and three World Cup qualifiers, against Jamaica, Panama and Honduras, was largely expected.
The 31-year-old missed the team's earlier qualifiers this year after taking a self-imposed break from the game. He only resumed playing in late March and national coach Juergen Klinsmann said he would have to fight his way back in like everyone else.
"I'm disappointed that I'm not (selected) but I'll keep going and I'll keep working hard and I hope that I get the chance," he said.
"I would love to be in Brazil next year but I can't completely control that. My job is to make it as difficult as possible for the coach to leave me out."
(Reporting by Julian Linden)