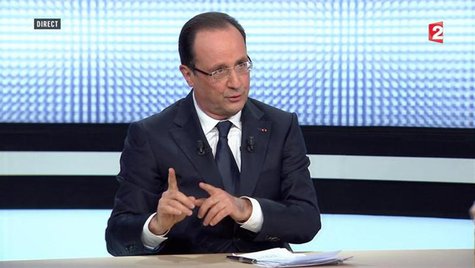 PARIS (Reuters) - French President Francois Hollande said on Thursday that he planned to alter his election campaign proposal for a 75 percent tax on income above 1 million euros to put the burden on companies rather than individuals.
Hollande said during an interview on France 2 television that he would redraft his original super-tax plan, which has been rejected by the constitutional council, so that companies would pay a 75 percent tax on salaries above 1 million euros ($1.28 million).
Hollande, who is battling to reduce the public deficit in a climate of stalled growth, said no other new taxes would be imposed this year and that no tax rises were envisaged for 2014.
(Reporting by Nicholas Vinocur and Catherine Bremer; Editing by James Regan)