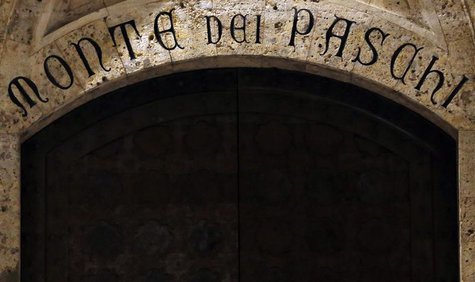 MILAN (Reuters) - The top shareholder in Monte dei Paschi di Siena , Italy's third biggest lender, will back changing ownership rules at the bank at a meeting this week to lure new investors, it said on Monday.
The Monte dei Paschi foundation, a charitable entity which has a 33.5 percent stake in the lender, said in a statement its board had approved scrapping bylaws that said other investors could not own a stake of more than 4 percent.
The changes will be voted on at an extraordinary shareholder meeting on Thursday. The foundation's backing means they are virtually certain to pass, making the bank potentially vulnerable to a takeover for the first time in its five-century old history.
Monte dei Paschi, at the centre of a high-profile investigation into risky derivative trades, was forced to take 4.1 billion euros ($5.35 billion) in state loans earlier this year to plug a capital hole.
Its management has said that the scrapping of ownership limits was requested by the European Commission as a condition for approving the bailout.
The bank has already approved a capital increase of 1 billion euros, which sources say could be doubled to 2 billion euros, to be carried out by 2015.
The rights issue will be aimed at new investors and Monte dei Paschi Chairman Alessandro Profumo has repeatedly said the bank could no longer limit how big a stake other investors could hold if it wanted the cash call to be successful.
The stake limit had helped the foundation, which has close ties with local politicians in the bank's home town of Siena, to keep control of the bank and veto any unwanted decision.
However, as the bank ran into trouble during the euro zone's debt crisis, so did the foundation, which accumulated huge debts to fund two capital increases at the lender.
Last year the cash-strapped foundation, which previously had 49 percent stake in the bank, began cutting down its holding to pay back creditors.
It still has a big enough holding to have a blocking minority at shareholder meetings, although it faces further dilution of its stake when the next capital increase is carried out.
($1 = 0.7661 euros)
(Reporting by Silvia Ognibene and Silvia Aloisi; Editing by Pravin Char)