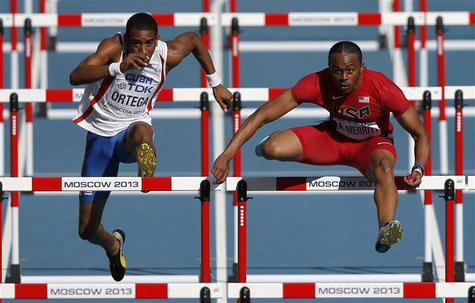 By Alison Wildey
MOSCOW (Reuters) - It was a case of safety first for Olympic 110 metres hurdles gold medalist Aries Merritt in the world championships heats on Sunday after his last race ended in a clatter with the barrier.
The world record holder ran within himself to safely negotiate the 10 hurdles on the bright blue track in a Luzhniki Stadium that was again practically empty.
Not even the lure of a host of world and Olympic champions could persuade the fans to turn out in sizeable numbers on a humid morning in the Russian capital.
A few hundred Ukrainian fans, all wearing blue or yellow tops, tried to brighten the atmosphere by fanatically clapping and cheering their country's athletes but the echoes that rang around the stadium merely underlined the emptiness.
Organizers must be hoping one of the biggest names in sport can liven things up when world record holder and Olympic champion Usain Bolt takes centre stage in the event's showpiece men's 100 metres final later on Sunday.
Merritt will be joined by defending champion Jason Richards, David Oliver and surprise U.S. trials winner Ryan Wilson in Monday's semis as the Americans attempt a first global clean sweep in the event since the 1960 Olympics.
As if to impress upon his rivals his status as fastest in the world this year, Oliver was the quickest qualifier for Monday's semis in a time of 13.05 seconds.
Merritt, however was nonplussed by his compatriot's fast time.
"Today it was not necessary to run 13.05 in the first round. I preferred and needed to save energy," he told reporters.
"I tried not to make any mistakes," added Merritt who pulled up and pushed over a hurdle in his last race before the world championships at the London Diamond league meeting two weeks ago.
"I wanted to be relaxed and in control. Full play will be tomorrow."
Like the men's event, the women's 100 metres has been hit by doping scandals with the silver and bronze medalists from Daegu in 2011 both missing.
Veronica Campbell-Brown, second two years ago, tested a positive for a banned diuretic in May while Kelly-Ann Baptiste of Trinidad and Tobago voluntarily withdrew from the championships on Saturday after reports of a failed test.
"In less that 24 hours, the federation will give a statement on Baptiste, Trinidad team manager Dexter Voisin told reporters on Sunday, without confirming or denying the reports.
American English Gardner put in a storming performance, flying out of the blocks and pushing all the way to the line to comfortably win her heat in the fastest time of the day, 10.94 seconds.
Defending champion Carmelita Jeter, whose season has been blighted with injury, looked less polished as she finished second in her heat behind Ivory Coast's Murielle Ahoure to go through to Monday's semi-finals.
Olympic champion Shelly-Ann Fraser-Pryce, sporting a bright yellow bow in her pink ponytail, and Kerron Stewart led the challenge for the U.S.'s arch sprint rivals Jamaica, with wins in their heats.
The competition's decathletes were greeted with the sight of thousands of empty red, orange and yellow spectator seats for the start of the second day of the 10-discipline event which began with the 110 hurdles.
World record holder Ashton Eaton held a nine-point lead over young U.S. compatriot Gunnar Nixon overnight and he extended that to 118 after clocking 13.72 for the hurdles, the fastest time of the day.
Despite the discus being one of Eaton's weaker events, his 45 metres was better than Nixon's 42.38, a performance which dropped the younger man down to fifth overall.
With the pole vault, javelin and 1,500 to come, Olympic champion Eaton has a lead of 119 over Germany's Michael Schrader.
(Editing by Mitch Phillips)