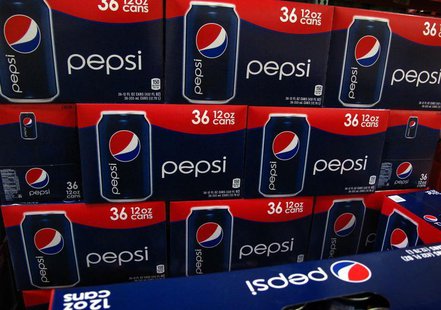 By Martinne Geller
(Reuters) - PepsiCo Inc posted better-than-expected quarterly earnings on Thursday, as price increases helped margins, but the company stood by its full-year forecast as it invests in its business.
The maker of Pepsi sodas, Tropicana juices, Frito-Lay snacks and Quaker oatmeal has been boosting its advertising and marketing and cutting costs to improve performance, especially in its North American beverage business, which was losing market share to rival Coca-Cola Co .
Despite the better first-quarter results, CFO Hugh Johnston told analysts not to increase their 2013 estimates. "The world remains a volatile place and we may also choose to incrementally invest in the long-term value building initiatives such as advertising, innovation and in emerging markets growth capacity."
Net income was $1.08 billion, or 69 cents per share in the first quarter, down from $1.13 billion, or 71 cents per share, a year earlier.
Excluding a hit from the Venezuelan currency devaluation, restructuring charges and other items, earnings were 77 cents per share.
On that basis, analysts on average were expecting 71 cents per share, according to Thomson Reuters I/B/E/S.
Revenue rose about 1 percent to $12.58 billion.
Earlier this week, Coke reported a slightly better-than-expected profit and said it was taking steps to refranchise its U.S. distribution system, less than three years after acquiring the bulk of it in a $12.3 billion deal.
Coke's 2010 acquisition followed a similar move by PepsiCo.
PepsiCo, based in Purchase, New York, said it still expects 2013 earnings to grow 7 percent from the $4.10 per share it earned in 2012. Last year was a "transition year" for PepsiCo, in which profit fell amid increased spending.
Its shares rose to $79.50 in premarket trading from Wednesday's close of $78.85 on the New York Stock Exchange.
(Reporting by Martinne Geller in New York; Editing by Gerald E. McCormick and Maureen Bavdek)