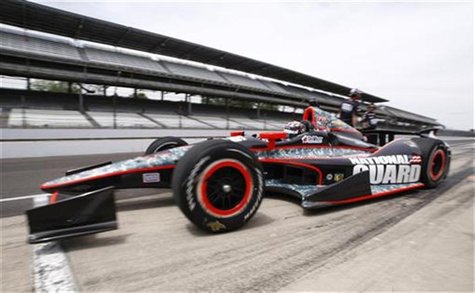 INDIANAPOLIS (Reuters) - To win the Indianapolis 500, a driver must safely make it around 800 turns, four on each of the 200 laps of the sprawling oval track. Anything less, spells certain disaster, as JR Hildebrand found out last year.
In his first appearance in the race, the rookie driver was on the verge of greatness with the checkered flag in sight when disaster struck.
He had no problems with the first 799 turns but made a split-second decision on the final bend that cost him certain victory.
To get around a slower car, he moved to the outside but lost his control of his car when he ran over some loose rubble, slamming into the unforgiving concrete walls. He was so close to the finish that he still made it across in the line second but not before Dan Wheldon slipped past him to capture the race for a second time.
For the past year, Hildebrand has been quizzed time and time again about his error and returning to Indianapolis has only brought back the bittersweet memories.
But rather than remain haunted by what happened, the 24-year-old from California is using the experience to spur him on in the belief that he will get another chance.
"It doesn't bother me to talk about this stuff, I'm not going to shy away from it," he told reporters.
"For me personally, in my first time at going through the Indianapolis 500 we sort of showed that we could just about beat anybody. We are going to roll that into this season and be more aggressive."
It remains to be seen whether he will get his chance of redemption. The odds are stacked against him on Sunday after he qualified 18th in the 33 car field. Ryan Briscoe has the pole position.
But Hildebrand, who qualified 12th last year, knows better than most that avoiding trouble is as important as having a fast car in the endurance event.
"I think we all thought we'd go out there and go significantly quicker. At this stage, we're going pretty much as fast as we were going last year in qualifying," he said.
"A good starting position in the 500 helps keep you out of the craziness that goes on sometimes, but either way it's a long day. You have to stay out of trouble all 200 laps."
(Editing by Gene Cherry)