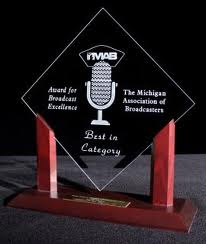 Lansing, MI (WTVB) For the second year in a row the WTVB News Department has been recognized by the Michigan Association of Broadcasters as one of the best in the state. At the MAB's Broadcast Excellence Awards in Lansing Wednesday evening, News Director Jim Whelan's 8 am Newscast from December 14, 2011 was named Best Newscast for Commercial Radio Market #4. The 9 am Newscast from November 29, 2011 received a 2nd place Merit Award in the Newscast category.
Whelan's "Tom Foley Found Not Guilty" report from July 30, 2011 received a Merit Award in the Breaking News Category. The "WTVB Helps Branch County 2011" compilation received a Merit Award in the Community Involvement category, and a promotional announcement for our Detroit Lions broadcasts produced by Ken Delaney in conjunction with Greg Brayton entitled "Detroit Lions-On Our Way To The Super Bowl" received a Merit Award in the Marketing Materials and Promos category.
Broadcast Excellence Awards were judged by broadcasters in the state of Colorado and members of the Colorado Broadcasters Association. Markets are determined by city population, with Market #4 consisting of cities like Marquette, Escanaba, Alpena, and smaller. Fellow Midwest Communications Inc station WKZO AM/FM won its 4th Station of the Year award in the Commercial Radio Market #2 category.