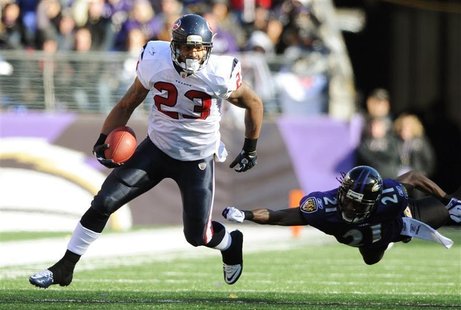 (Reuters) - The Houston Texans secured a key member of their highly-potent offense by agreeing to a long-term contract extension with speedy running back Arian Foster, the National Football League (NFL) team said on Tuesday.
Terms of the deal were not disclosed but a report on the NFL's website said Foster, who has been to two Pro Bowls, would receive a maximum of $43.5 million over five years.
The deal made Foster the third-highest paid rusher in the NFL behind Adrian Peterson of the Minnesota Vikings and Chris Johnson of the Tennessee Titans.
"I don't think it really has sunk in yet. I just signed. That was the first time I've shed any tears in a long time," Foster said at a news conference to announce his deal.
"I think that hard work does eventually pay off."
Foster, 25, was an undrafted free agent in 2009 and the NFL's top rusher with 1,616 yards in 2010. He missed three games last season but still ran for 1,224 yards and touchdowns.
Signing Foster, who was scheduled to become a restricted free agent on March 13, was a key objective during the offseason for a Houston team that secured their first division title and playoff victory last season.
Had he become a restricted free agent, another team could have signed Foster in exchange for a first-round draft pick.
Foster said that despite the security of a lucrative, long-term contract awarded to him after an impressive start to his career he remains hungry to perform throughout the NFL's grueling 16-game regular season schedule.
"You can't ride that hype and I understand that more than anybody that each year is a new year, so that's how I'm going to approach it," said Foster.
"I haven't proven anything yet because we haven't won a Super Bowl. So until I play a mistake-free football game, that's what I'm going to strive for."
(Reporting by Frank Pingue in Toronto; Editing by Julian Linden)