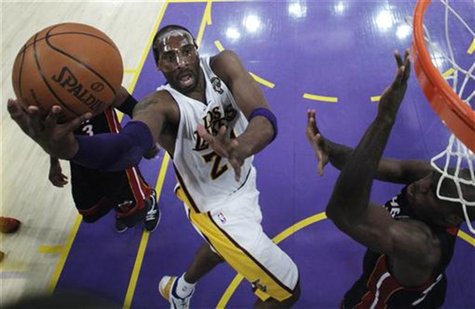 (Reuters) - Kobe Bryant exacted revenge for his broken nose with a game-high 33 points as the Los Angeles Lakers beat Miami Heat 93-83 in an emotion-charged victory at the Staples Center Sunday.
Bryant, who suffered the injury and a concussion in a hard foul by Miami's Dwyane Wade during last weekend's All Star Game, made an early statement with 18 points in the first quarter and added six in a row late in the fourth.
"He's a great scorer," Miami's LeBron James told reporters of Bryant, who was wearing a protective mask. "He's one of the best of all time and he got it going."
James held his own with 25 points, 13 rebounds and seven assists to lead Miami, who trailed for most of the game but pulled within six with just over a minute to go.
Bryant slienced the threat with a jump shot to hand Miami their second successive loss.
"It's fun to compete against the best," Bryant told reporters of his head-to-head battles against Wade and James.
"It's always enjoyable."
Prior to the game, both teams said there would be no carryover from the All Star Game incident but emotions ran high.
James and Pau Gasol were given technical fouls for a minor dustup at the end of the third quarter.
Wade was booed roundly by the crowd and he struggled to seven-of-17 shooting for 16 points. He fouled out with a little more than five minutes left, prompting the Staples Center to mock him with a standing ovation.
The Heat have fallen two games behind East-leading Chicago and were playing a third straight game without Chris Bosh, who has been absent due to a death in the family.
Without their top post presence, Miami shot just 37 percent from the field and had their second lowest scoring game of the season after managing just 82 in a January 22 loss to Milwaukee.
"We're a no excuses team," said Heat coach Erik Spoelstra. "Chris Bosh is a major component to what we do. (But the Lakers) earned it. You have to give them credit."
Fueled by an aggressive Bryant and a stingy defense, the Lakers jumped on top early and led 50-38 at halftime.
The Heat went with a small lineup for the second half, putting James at power forward and bringing in Shane Battier to play small forward.
The ploy appeared to work as they cut the lead to two points late in the third, but Los Angeles responded with a 7-0 run to end the quarter.
Metta World Peace delivered a strong effort for the Lakers with 17 points, and Andrew Bynum was a force in the paint as he finished with 16 points and 13 rebounds, helping the Lakers stay tied with the Clippers at the top of the Pacific division.
(Editing by Ian Ransom/Peter Rutherford)