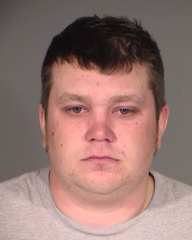 FOND DU LAC, WI (WTAQ) - A man pled no contest Tuesday to charges stemming from the death of his live-in girlfriend's 18-month-old daughter.
24-year-old Tyler Jackson of Fond du Lac entered that plea to a reduced charge of second-degree reckless homicide in the December 2010 death of Chloe Gessner.
Prosecutors say Jackson told investigators the girl was following him down the basement steps at their home. That's when Jackson told police he walked into another room, and when he returned, the child was lying at the bottom of the stairs with blood coming from her nose and mouth.
Jackson called 911 and the girl was rushed to Children's Hospital in Wawautosa, where doctors determined she was brain dead. In the criminal complaint, one doctor was quoted as saying the brain trauma was "one of the worst, if not the worst cases she had seen" and not consistent with what Jackson had said.
Prosecutors said the claim that the child was fatally injured in the course of a fall down six steps which were carpeted was not believable.
Jackson later admitted playing rough with the girl. He told investigators he wouldn't handle a puppy that way, saying it "would be far too fragile."
No sentencing date was set.