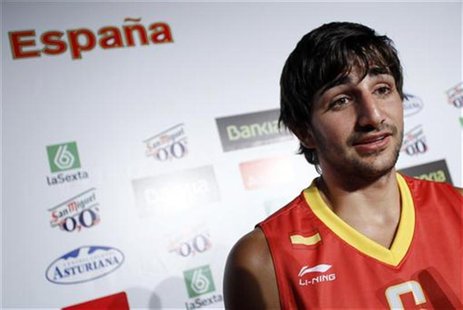 By Jahmal Corner
LOS ANGELES (Reuters) - Whether driving the lane or the snow-fallen roads of frigid Minnesota, Timberwolves point guard Ricky Rubio navigates with a fearless abandonment that's winning over fans and team mates alike in his debut season in the National Basketball Association (NBA).
Rubio has been equally adventurous on the court this season where his well-known passing wizardry is bringing rare entertainment value to the hard-luck Timberwolves franchise.
Basketball fans have lined up to watch the no-look passes and fast-break forays of the 6ft 4in Rubio who has helped Minnesota draw three sellout crowds this season, one more than all of last season, while jumping out to a surprising 7-8 start.
"He's been better than I thought he was going to be," said Timberwolves coach Rick Adelman.
"He has a real gift, he's a great passer in the open court and sees the floor really well. Because of him we've really changed things and just put the ball in his hands."
Rubio has had the ball in his hands since the beginning. Though a rookie by NBA standards, the Spanish prodigy has been a professional since signing with Spanish team Joventut Badalona at the age of 14.
His reputation soon swelled worldwide when he helped Spain win a silver medal at the 2008 Beijing Olympics, impressing in the final against gold medalists the U.S. and Kobe Bryant, LeBron James and Jason Kidd.
The Timberwolves selected Rubio as the No. 5 overall pick in the 2009 draft but he spent two years playing with Barcelona before reaching the NBA where anticipation had been building for his appearance.
Rubio has not been slowed by the extra attention or expectations. He started the season as a reserve, but quickly worked his way into the starting lineup with averages of 10.6 points per game and 8.1 assists heading into Saturday's game against Utah.
"He takes everything in stride whether it's the media, or missing shots or playing extremely well and getting the hype," said Minnesota All Star forward Kevin Love. "He's that cool and composed."
Rubio's poise under fire has been on display all season and he has emerged as one of the team's best fourth-quarter players.
Despite missing his first 10 shots in a game against the Los Angeles Clippers on Friday, Rubio sunk a game-tying three-pointer with 20 seconds remaining that helped the Timberwolves earn a dramatic 101-98 victory.
"I believed in that shot. If not, no one can believe for you," said Rubio, who has been spending extra time improving his jump shot which is a work in progress.
"(The fourth quarter) is when you have to control more of the game, and I feel much better then."
(Editing by Julian Linden)