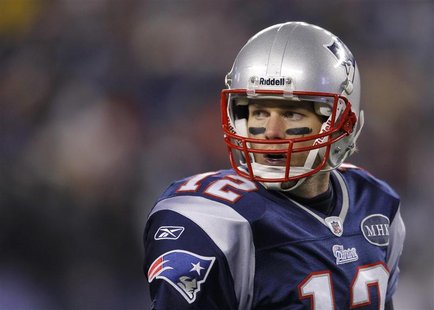 (Reuters) - Tom Brady was never really part of the National Football League (NFL) most valuable player (MVP) discussion this season and was barely present on Twitter where Denver Broncos quarterback Tim Tebow was trending worldwide.
But it will be hard to overlook Brady when his New England Patriots host the Baltimore Ravens on Sunday to determine which team represents the American Football Conference in the Super Bowl on February 5.
After years of excellence that have produced four trips to the Super Bowl and three titles in the past 11 seasons, football fans outside the Boston area appeared to take Brady for granted during the 2011 NFL season.
Despite leading the Patriots to a 13-3 record and becoming just the fourth player to pass for over 5,000 yards in a season, Brady never featured in an MVP debate dominated by quarterbacks Aaron Rodgers of Green Bay and Drew Brees of New Orleans.
Brady was nudged even further out of limelight as Tebow-Mania swept the nation while even college quarterback Andrew Luck, the projected top pick in this year's draft, received more attention than the two-time Super Bowl MVP.
A victim of his own success, Brady threw for 5,235 yards and 39 touchdowns this season, a performance that was greeted with a 'ho hum' response from NFL fans who have come to expect nothing less from the seven-time Pro Bowl quarterback.
But Brady's brilliance finally shone through during last week's divisional showdown against Denver when he delivered a quarterbacking master class by firing six touchdowns to tie an NFL post-season record in a 45-10 rout.
Even in the aftermath of the record-smashing performance, highlighted by five first-half touchdowns, Brady tried to share the spotlight by heaping praise on his team mates.
"The offensive line has been our biggest strength on offense," explained Brady. "It was that way in the regular season and it continues to be that in the playoffs.
"They all played really exceptionally well, both in the run game and pass game."
While Brady operates with the cool confidence of a three-time Super Bowl champion his fiery competitiveness sometimes goes unnoticed but should not be underestimated.
At 34 and in his quarterbacking prime, Brady has lost none of his desire, which seems to surface in key games.
He runs the Patriots offence with a surgeon's clinical precision and reads opposing defenses like passages from a favorite book that he can recite from memory.
There is not a blitz or defensive scheme he has not seen, no throw he cannot make.
Brady and Bill Belichick have built the most successful quarterback-coach partnership the NFL has ever seen, the pair claiming the record from Miami's Dan Marino and Don Shula with their 117th win together in November. They have not lost since, reeling off nine successive victories.
The pair reached another milestone last Sunday as the win over Denver earned them their 15th post-season victory together to eclipse the 14 won by Pittsburgh Steelers Hall of Famers Chuck Noll and Terry Bradshaw.
For Brady, the Patriots formula for success is simple.
"You show up to work, you put the preparation in," said Brady. "You focus on the things you need to focus on, which is how to play your best, which is game planning, which is your scheme, which is your execution.
"Then you go out to practice and you go through it.
"If it doesn't look good, you've got to change some things and you move forward to the next day and the next day.
"Ultimately it's the game and you go out there and you see what it looks like."
(Reporting by Steve Keating in Toronto; Editing by Frank Pingue)