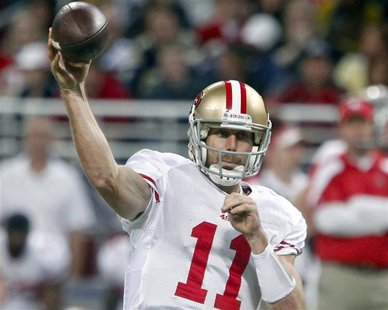 (Reuters) - The San Francisco 49ers clinched a first-round bye in the National Football League (NFL) playoffs with a 34-27 victory over the St. Louis Rams on Sunday.
The 49ers finished the regular season with a 13-3 record, bettered only by the NFC top seed and defending Super Bowl champion Green Bay Packers.
"Our players deserve all the credit. They battled, they never gave up, they work extremely well, study very hard and they dominate the details," Harbaugh told reporters. "That's what they have been doing for 17 weeks and we are going to have to continue to do that. I am very proud of our team."
San Francisco wide receiver Michael Crabtree caught two touchdown passes - one from starting quarterback Alex Smith and a second from kicker David Akers on a faked field goal attempt.
The 49ers, with Harbaugh in his first season as a NFL head coach, had already secured the NFC West division title.
While a chance to secure the second seed and the resulting bye week is something worth fighting for, there were signs of the 49ers easing off after they almost squandered a 21-point lead in the fourth quarter.
Two late touchdowns in 13 seconds by the Rams - Brandon Lloyd on a 36-yard pass from Kellen Clemens and then a one-yard run from Cadillac Williams - brought St. Louis within reach of what would have been a remarkable comeback.
But the 49ers defense responded, forcing a turnover on downs and showing why, with just 23 touchdowns conceded this year, a franchise record, they are such a formidable unit.
Smith said the extra week off would allow the players to heal some of their bumps and bruises after a grueling season and get ready for their playoff clash.
"It's not a vacation, everyone will be in, staying in it and it is a chance to get healthy," said Smith, who was without injured receivers Ted Ginn Jr. and Kyle Williams for the finale.
"These are long seasons though, long physical seasons and to get a bye right now and to get fresh for the playoffs, which will also be a home game, is huge."
(Reporting by Simon Evans in Miami; Editing by Frank Pingue)