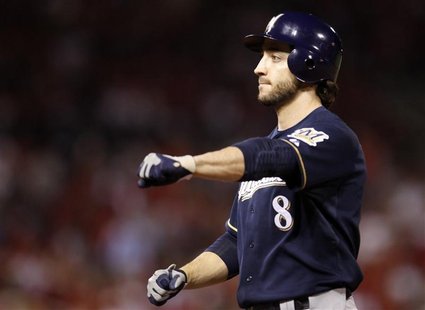 By Larry Fine
(Reuters) - National League MVP Ryan Braun, who successfully appealed a positive doping test that would have brought him a 50-game suspension, said on Friday the protocol process was "fatally flawed" and that he was totally innocent of wrongdoing.
The Milwaukee Brewers outfielder said his urine sample was not sent to the lab for a period of 44 hours and subsequently revealed levels of testosterone that were three-times higher than ever previously found in Major League Baseball testing.
"If I had done this intentionally or unintentionally, I'd be the first to step up and say 'I did it,'" Braun said from a podium on the diamond at the Brewers spring training field in Arizona. "I truly believe in my heart and I would bet my life that this substance never entered my body at any point."
Braun said he took a doping test on October 1 during the MLB playoffs and was told on October 19 that he tested positive, which automatically brings suspension.
On Thursday, an arbitrator ruled in favor of Braun's appeal and, for the first time in MLB testing, overruled the finding of a positive test and the voided the suspension.
"The program in the way that it was applied to me was absolutely fatally flawed," said Braun. "I feel like it's been unjust and unfair."
Braun, who batted .332 with 33 home runs, 111 runs batted in and 33 stolen bases in 2011, said dealing with the specter of suspension was the biggest challenge he has ever faced.
"Today is about everybody who's ever been wrongly accused. And everybody who's ever had to stand up for what is actually right."
(Reporting By Larry Fine in New York; Editing by Frank Pingue)