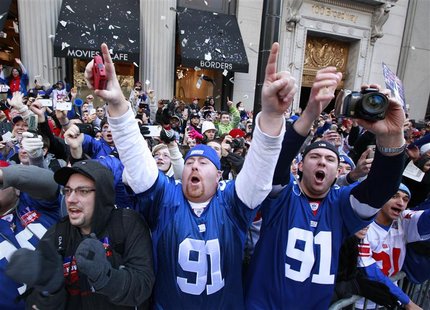 By Edith Honan
NEW YORK (Reuters) - Exultant fans of the Super Bowl champion New York Giants packed into downtown Manhattan for a victory parade on Tuesday, blowing on horns, dancing salsa and hoisting signs with the triumphant line "Believe in Blue."
Led by quarterback and game Most Valuable Player Eli Manning, the Giants erased an eight-point third-quarter deficit on Sunday to defeat the New England Patriots in a stunning repeat of their last Super Bowl win, also against the Patriots four years ago.
"Are you feeling deja blue all over again?" Mayor Michael Bloomberg asked the crowd, an allusion to the Giants' team color, after the ticker-tape parade that wound from the southern tip of the island of Manhattan to City Hall.
New York police declined to estimate the crowd size, although turnout was easily in the thousands.
The Giants had looked to have no hope of even competing for the National Football League title after enduring a four-game skid late in the regular season that put them in danger of missing the playoffs. But the team reversed its fortunes to reclaim the greatest prize in North American sports.
"They're just making New York proud," said Keishla Gonzalez-Quiles, 19, a college student from New York. "Since I was a little kid, I was a Giants fan. Through the ups and downs, no matter what. Nothing feels better than this."
Among the thousands of fans were people from New York, the city that claims the Giants as its own, and New Jersey, the state that is home to the Giants' East Rutherford stadium. New Jersey Governor Chris Christie has taken to calling the team the "New Jersey Giants."
A separate ceremony was scheduled for later Tuesday at Met Life Stadium in New Jersey, where the Giants play.
Jason Guth, 27, a cook who lives on Staten Island, said he grew up watching football games with his late grandfather. After tooting into a long plastic horn, he said he had to "live it up" in his grandfather's memory.
"Watching that game took years off my life. It was back and forth, back and forth," Guth said. "The stress watch is over. They won it."
In addition to Manning -- named most valuable player after completing 30 of 40 passes for 296 yards and a touchdown -- the big draw, especially among female fans, was wide receiver Victor Cruz, who won over halftime singer Madonna as a fan for his salsa-dancing touchdown celebrations.
One group of students from Staten Island came to the parade wearing T-shirts declaring "Mrs. Cruz."
"We don't really know anything about football. We just really wanted a parade," said Courtney Lindner, 18, who admitted she was interested in catching sight of Cruz.
Megan Haraz, 19, a college student from Spotswood, New Jersey smiled alongside a sign reading "I want to tango with Cruzzz!"
"It was terrifying. I almost had a major heart attack," Haraz said of the game. "But it was worth it for the thrill of attending a victory parade."
(Editing by Daniel Trotta)