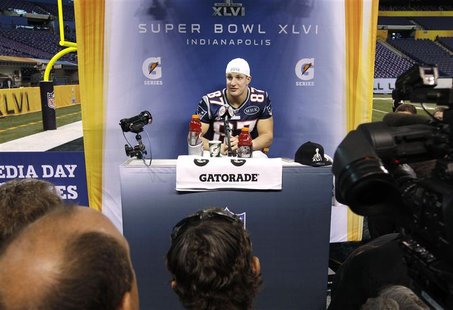 By Simon Evans
INDIANAPOLIS (Reuters) - The New England Patriots reached the Super Bowl in part thanks to an innovative offensive strategy they may now be forced to abandon due to tight end Rob Gronkowski's ankle injury.
Gronkowski and Aaron Hernandez have made up a novel two-man tight end package for the Patriots which has proved to be very fruitful for New England's passing game.
The role of a National Football League (NFL) tight end has evolved in recent years with the versatile players in that position expected to not only block and create openings but to be a key receiver and runner themselves.
The Patriots duo are by no means the only representatives of a new breed who are bigger, faster and more skilled than most of their predecessors - Tony Gonzalez (Atlanta) blazed the trail among the current crop, while Antonio Gates (San Diego) and Jimmy Graham (New Orleans) were also effective as a new kind of offensive weapon.
But the Patriots have been unique in using two such players in tandem and the results speak for themselves as defenses found themselves in a quandary over how best to respond.
Gronkowski set NFL records for a tight end with 1,327 yards receiving and 17 touchdowns this season while Hernandez ranked among the top five at the position in yards, receptions and scores.
Those numbers go some way to explaining why there has been so much anxiety over the prospect that Gronkowski's injury, suffered during the January 22 AFC Championship game, could keep him out of Sunday's Super Bowl in Indianapolis.
Barring the loss of quarterback Tom Brady, there could be no bigger loss to the Patriots offense than Gronkowski.
The mantra of NFL players and coaches is that it is all about the team and that no one is irreplaceable, but Hernandez, while repeating that official line, acknowledged how much of a loss Gronkowski would be.
"Obviously our team would take a toll on him not playing, but we have a lot of great players on this team and that's the reason we are here today," he told reporters on Thursday.
"Yeah, it would take away a huge weapon and a big part of this game but I feel like we have so many players on this team that everyone is smart enough and knows that it would be time to step up and carry that rifle on their shoulder."
Hernandez believes Gronkowski will be fit to play and the player himself says he will make the final call while continuing to talk of his status being "day-to-day."
But if he does not play or is only available in a limited role against the New York Giants the Patriots will be forced to shuffle their pack.
Offensive tackle Nate Solder could take some of Gronkowski's blocking duties but Brady may find himself having to use wideout options more often, with increased use of a three wide receiver set.
That would mean a busier day for Wes Welker and Deion Branch while Julian Edelman, who replaced Gronkowski when he was hurt against the Ravens, could feature as a third receiver.
A Gronkowski absence could also increase the chances of seldom-used former Pro Bowler Chad Ochocinco playing a more significant part in the gameplan.
(Editing by Frank Pingue; To query or comment on this story email sportsfeedback@thomsonreuters.com)