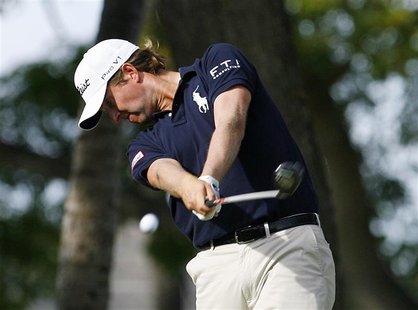 (Reuters) - American world number six Webb Simpson used a red-hot putter to charge into an early one-shot lead in Thursday's opening round of the Phoenix Open in Scottsdale, Arizona.
Simpson, the highest-ranked player in the field, sank several putts from between 12 and 15 feet on the way to a six-under-par 65 in relatively calm conditions at the TPC Scottsdale.
The 26-year-old mixed seven birdies with a lone bogey at the par-four sixth to finish a stroke in front of compatriots Derek Lamely, Kevin Na and Harrison Frazar, and Australian Jarrod Lyle.
South African Trevor Immelman, the 2008 Masters champion, opened with a 67 while Phil Mickelson, winner of the Phoenix Open in 1996 and 2005, carded a four-birdie 68.
Simpson, who ended a career-best season on the PGA Tour last year with two victories and second place in the money list, was delighted with his performance on the greens.
"The thing that kind of held me in there all day was my putting," he told reporters after totaling only 27 putts. "I made a bunch of putts, so I'm excited about that. The one on 17 was the longest, maybe 20, 25 feet."
Simpson, who teed off at the par-four 10th, rocketed up the leaderboard with four consecutive birdies from the par-four 17th.
"That kind of gave me a good jump start in the first round," he said. "Only blemish was at number six. I really didn't feel like I hit a bad shot, I hit a chip that released a lot more than I thought it would. Other than that, it was solid."
Asked whether it felt strange being the highest-ranked player in the field, Simpson replied: "I'm getting used to it, but I don't think about that stuff that much.
"I'm just a believer in you can climb up as quickly as you can go down, so I don't pay attention to it that much.
American world number nine Dustin Johnson and compatriot Keegan Bradley, winner of last year's PGA Championship, started out with 68s.
It was not a day to remember, though, for former world number one Vijay Singh, who carded a 76, and 2009 British Open champion Stewart Cink, who battled to an 83.
(Reporting by Mark Lamport-Stokes in Los Angeles; Editing by Frank Pingue)