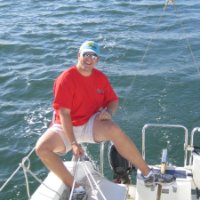 LUBBOCK, TX (WTAQ) - A federal grand jury has indicted a Jet Blue pilot from suburban Milwaukee, after he allegedly left his cockpit during a flight and screamed about religion and terrorism.
The grand jury in Lubbock Texas indicted Clayton Osbon on a charge of interfering with a flight crew. He's currently undergoing a court-ordered mental exam to see if he was sane at the time.
Osbon was raised in Mequon and graduated from the University School of Milwaukee.
The incident happened March 27th on a Jet Blue flight from New York to Las Vegas. Witnesses said the pilot ran through the cabin and yelled about al-Qaida and Jesus.
Passengers wrestled him to the floor and restrained Osbon with seat-belt extenders. The plane then made an emergency landing in Amarillo Texas.
A flight attendant suffered bruised ribs while trying to restrain Osbon, but no one else was hurt seriously.
Jet Blue has suspended Osbon, pending its own review of the incident.
He now lives in Georgia, but his mother still lives in Mequon. The family also has a home on Door County's Washington Island.