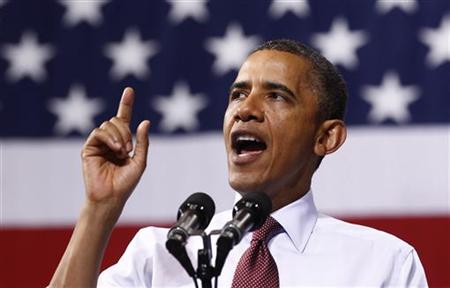 By Alister Bull
WASHINGTON (Reuters) - A dilapidated bridge over the Ohio River becomes the latest prop in President Barack Obama's push for jobs on Thursday as he takes a campaign for more spending into the backyard of his political foes.
The Brent Spence Bridge, connecting the home states of the two top Republicans in Congress, is a vital traffic route between northern Kentucky and Cincinnati, Ohio. Republicans have mocked Obama's trip as political theater.
But the 830-foot (253-meter) bridge has been officially designated as "functionally obsolete" and Obama hopes it will help him illustrate why Congress should back billions of dollars in job-creating infrastructure investment.
Obama, a Democrat, wants Congress to pass a $447 billion jobs bill he unveiled this month to kick-start growth and hiring essential to improving his hopes for re-election in November 2012.
A majority of Americans disapprove of his handling of the economy and his opinion poll numbers have slipped amid worries the country could slip back into recession, with fresh jitters exposed on Thursday as global stock markets slumped.
Obama's visit to Cincinnati -- to an event within view of the bridge -- is his latest trip to drum up support among voters around the country for his plan to spur job creation by cutting taxes and modernizing crumbling infrastructure.
It also continues a White House offensive to sharpen his campaign message that Republicans care more about shielding the rich from higher taxes than making important investments.
On Monday the president vowed to protect federal health and retirement programs from budget deficit cuts unless lawmakers also agree to raise taxes on the rich.
That pledge was aimed at rallying Obama supporters worried that he has not fought hard enough to safeguard Democratic Party values during months of budget fights with Republicans.
BATTLE LINES
That drew a key election battle line between spending and taxes that Obama will emphasize in Cincinnati.
Linking Kentucky, the home state of Republican Senate leader Mitch McConnell, with House of Representatives Speaker John Boehner's Ohio, the 47-year-old bridge funnels traffic from two interstate highways and suffers from overcrowding.
McConnell criticized Obama for using the bridge as a political stunt. Republicans have said Obama must agree to loosen restrictions on how infrastructure money is spent at the local level before Congress will consider further spending.
"I would suggest, Mr. President, that you think about ways to actually help the people of Kentucky and Ohio, instead of how you can use their roads and bridges as a backdrop for making a political point," McConnell said on the Senate floor.
"If you really want to help our state then come back to Washington and work with Republicans on legislation that will actually do something to revive our economy and create jobs. And forget the political theater," he said.
The bridge opened to traffic in November 1963, a few days after the assassination of President John F. Kennedy, but the volume of traffic it handles each day has exploded and it has been on the list for renovation for years.
Engineers concluded in 1995 that it should be replaced by 2007 and an investigation by the Cincinnati Enquirer found the chances of a traffic accident on the bridge were five times higher than on the region's highways.
The Brent Spence Bridge is not the only bridge in the region with problems. For more than a week, the Sherman Minton Bridge connecting Louisville, Kentucky, with southern Indiana has been closed due to structural flaws, causing huge jams. It could be shut for anything between several months and several years, depending on the scale of the necessary repairs.
(Editing by Eric Walsh and Doina Chiacu)