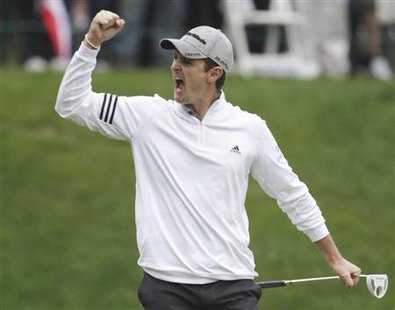 By Steve Keating
LEMONT, Illinois (Reuters) - Since bursting onto the golf scene as a teenage prodigy 13 years ago, Justin Rose has never managed to seize a career-defining victory.
Now a 31-year-old journeyman, the Englishman claimed his biggest win with a gritty two-shot victory over Australian John Senden at the BMW Championship on Sunday that may well go down as the most important of his career.
Not only did Rose's third career PGA Tour title earn him $1.4 million, it also clinched him a spot in the season-ending Tour Championship in Atlanta next week where an elite field of 30 will battle for the $10 million bonus that goes to the FedExCup points leader.
"The manner in which I won this tournament, it rates as high as the best tournament I've ever won, just by going wire-to-wire," Rose told reporters. "I think mentally this is the best I've ever been in terms of being very under control with my emotions, being very calm, being very aware of the situation and feeling comfortable with it.
"I may have had better ball striking weeks as a whole but I think this week as a competitor and as a professional, I think it was probably my best ever performance."
Rose turned professional at age 18 the day after finishing fourth as an amateur at the 1998 British Open.
By any measure, it has been a career filled with great promise but much of it has gone unrealized.
Rose famously missed 21 consecutive cuts after turning professional but kept plugging away and eventually earned his first title at the Dunhill Championships on the European Tour in 2002.
It was only last year that Rose finally made his long awaited PGA Tour breakthrough with his first two career wins. But this season Rose had been unable to build on that success.
He has four top 10s this year highlighted by a third place finish at the Arnold Palmer Invitational but his performance has been wildly inconsistent, particularly toward the end of the season.
After missing the cut at the PGA Championship, Rose rebounded with a solid sixth at the first FedEx playoff event, the Barclays, but then finished in a disappointing tie for 68th at the Deutsche Bank two weeks ago.
Arriving at the Cog Hill Golf and Country Club saying it was do-or-die, the daring manner of Rose's wire-to-wire win could also add some flare and confidence to a career that at times has idled.
"Sometimes when you're not playing well with this game, playing well seems a mile away," said Rose. "You're watching Webb Simpson and Chez Reavie coming down the stretch and they're making putts and hitting great shots and obviously you're imagining the pressure that they're under and they're still able to do that.
"You think, wow, their game must be in such great shape, and then all of a sudden the next week you're doing the exact same thing.
"It's such an important lesson to learn looking back with the benefit of hindsight now that knowing the next time you're in that situation it's just a day away or a round away.
"That's the great thing about this game is it always tests us and it always keeps sort of dangling a carrot and making it tough."
(Editing by Frank Pingue)