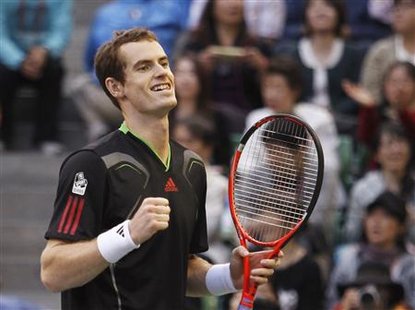 By Alastair Himmer
TOKYO (Reuters) - Andy Murray reduced Rafa Nadal's granite-like resistance to rubble as he stunned the Spaniard 3-6 6-2 6-0 to capture the Japan Open tennis on Sunday.
It was the Briton's second title in two weeks, after he won in Bangkok, and ended Nadal's bid to become the first man since Pete Sampras in 1993-94 to retain the Tokyo crown.
"I played some great tennis, especially in the third set," Murray told reporters after inflicting the dreaded 'bagel' on Nadal in the decider to win his 20th career title.
"It was the best tennis I've played against Rafa," added the Scot, who had lost 13 of his previous 17 matches against the world number two.
Murray, who has won 21 of his last 22 matches, will wish he could bottle the magic he produced in an astonishing third set, when he dropped just four points.
"To only lose four points - and against Rafa - will never happen again," he said. "I've hit the ball like that before but for such a long period, that's definitely the first time.
"I've given myself the target of ending the year at number three (in the world) so hopefully I can carry on that form."
Murray, who can close the gap on Roger Federer further in Shanghai next week, returned to court after a quick rubdown to win the Tokyo doubles with brother Jamie.
"Winning with my brother makes it the perfect week," he said, the singles trophy gleaming beside him.
Top seed Nadal took the first set on a superb lunging volley but Murray hit back brilliantly, breaking for 3-1 in the second with a rifled forehand into the corner.
TRIPLE ACES
Murray, accused in the past of having a 'glass jaw', nervelessly saved triple break point in the next game with three cracking aces to leave Nadal shaking his head in disbelief.
The second seed, who had been screaming at himself and pointing furiously at his box in the first set, leveled the match with a bullet backhand that Nadal could only dump into the net.
Nadal's game unraveled and the 10-times grand slam champion wore the look of a tortured man in the final set as Murray caught fire, ripping winner after winner past him.
Nadal overtook world number one Novak Djokovic for most match wins this year with his 65th in his semi-final victory over Mardy Fish, but he had no answer to Murray's power.
Fans of Nadal, many draped in Spanish flags and some in red-and-yellow, afro-style wigs, fell silent as Murray tore through the decider in 29 minutes.
Murray set up triple match point with a rocket forehand down the line before forcing Nadal into a loose backhand to end a pulsating final after two hours, 16 minutes.
"Andy played unbelievable. He deserves the title," said Nadal, playing his first tournament since helping Spain to reach the Davis Cup final last month.
"I've lost a few sets 6-0 of course. You prefer it doesn't happen, but he played fantastic and in the third set he started to play at a really high level. Accept. That's it."
(Editing by John O'Brien and Clare Fallon; To query or comment on this story email sportsfeedback@thomsonreuters.com)