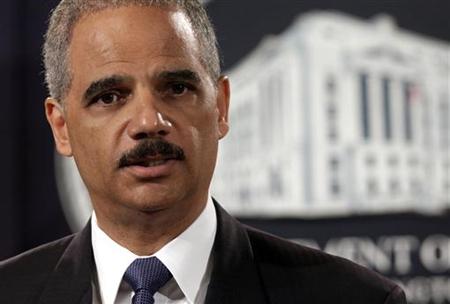 WASHINGTON (Reuters) - President Barack Obama said on Thursday he fully supported Attorney General Eric Holder, who has come under scrutiny after a botched operation to track guns smuggled to Mexican drug cartels.
"I have complete confidence in Attorney General Holder," Obama said at a news conference. "He has been very aggressive in going after gun running and cash transactions that are going to these transnational drug cartels in Mexico."
The backing by Obama, who appointed Holder, comes as the attorney general has been under fire for the bungled operation, known as "Fast and Furious," that was aimed at tracking guns from the United States to violent Mexican drug cartels.
However, the weapons were not fully tracked after their purchase and some have been found at crime scenes in the United States and Mexico.
Holder has "indicated that he was not aware of what was happening in Fast and Furious. Certainly I was not," Obama said.
"And I think both he and I would have been very unhappy if somebody had suggested that guns were allowed to pass through that could have been prevented by the United States of America," he said.
The operation, run from late 2009 through 2010, has become a headache for the Obama administration and complicated diplomatic ties with Mexico, particularly because some of the guns sold have ended up at crime scenes.
In addition to a Justice Department inspector general probe, congressional Republicans have been investigating the matter, focusing on who approved the operation and who in the administration knew as well as when.
The chairman of the House of Representatives Oversight Committee, Darrell Issa, and the senior Republican on the Senate Judiciary Committee, Chuck Grassley, on Thursday referred to memos they say show Holder was given details about it in 2010.
The memos to Holder and his deputy said "straw purchasers are responsible for the purchase of 1,500 firearms that were then supplied to the Mexican drug trafficking cartels."
Holder's spokeswoman Tracy Schmaler said those memos did not reveal that U.S. authorities specifically allowed guns to be walked across the border and that brief entries were part of 100-plus page regular reports sent to Holder's staff.
"These brief entries buried in a few written reports reveal nothing of the dangerous tactics that were employed in this operation," she said, adding that Holder did not know about the tactics until early this year.
Issa and Grassley questioned whether Holder was accurate when he told lawmakers in May that he was only recently aware of the operation, which Schmaler said referred to the specific tactics at issue.
(Reporting by Jeremy Pelofsky and Jason Lange in Washington, editing by Xavier Briand)