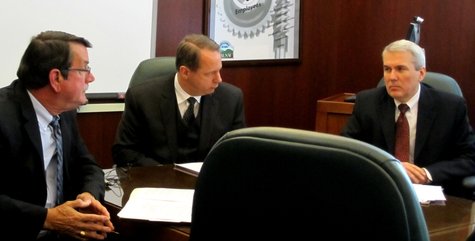 WAUSAU, Wis. (WSAU) – A central Wisconsin health care provider and an osteopathic school are looking at the possibility of launching a third medical school in the state in the next two years.
Officials with Aspirus and the Wisconsin College of Osteopathic Medicine went public Wednesday with their plans, openly revealing discussions that have been underway for the past six months.
"Certainly we want to be hopeful, but clearly we are just in the initial stages," said Aspirus vice president of human resources Roger Lucas. "Is it a done deal? No. Do we want it to happen? Absolutely."
Both sides are working on a feasibility study that will look at whether the need exists for another medical school, its possible location, and how it would be paid for.
The school could cost anywhere from $70 to $75 million, be located on the Aspirus Wausau campus and be as large as 60,000 to 100,000 square feet.
The feasibility study should be completed by the spring, said Dr. Gregg Silberg, executive vice president and dean of the Wisconsin College of Osteopathic Medicine. It would take 18 months to two years to launch the school, if the study finds the need exists.
If the school moves forward, Silberg and Aspirus officials estimate that it would start with 100 students per class and could grow as large as 150 students per class. The school would put about 130 people to work, including faculty and administrative staff, on the first day.
Wisconsin already has two medical schools – the Medical College of Wisconsin in Milwaukee and the University of Wisconsin School of Medicine and Public Health in Madison. Aspirus and the osteopathic college are looking at Wausau because of its central location in the state and the ability for physicians to treat patients in rural and underserved areas.
The school could help fill a looming shortage of physicians. The Wisconsin Hospital Association released a report Tuesday estimating that Wisconsin could have a shortfall of 2,000 physicians by 2030.
The report raises significant concerns for health care in the state and throughout the country because of an aging population and because more people will gain access to health care through the federal health care reform measure signed into law last year.