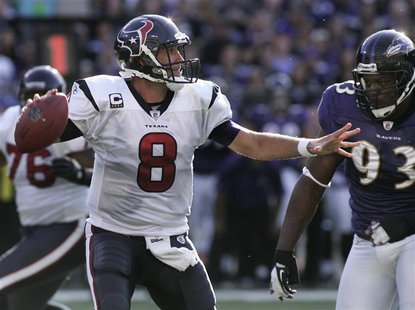 (Reuters) - Houston Texans quarterback Matt Schaub needs season-ending surgery to repair a foot injury and has been placed on the injured reserve list, the team said on Wednesday.
Former Pro Bowler Schaub, who had led the AFC South-leading Texans to a 7-3 record, was injured during the second quarter of his team's 37-9 victory over the Tampa Bay Buccaneers on November 13.
The Texans originally said Schaub, who stayed in the game until midway through the fourth quarter with what was thought to be a sprained ankle, would miss some time and held out hope that doctors would clear him for play this season.
"We were kind of holding out hope that maybe they saw a way he might rest and come back at the end, but they didn't think that was going to happen," Texans coach Gary Kubiak said in a report on the team's website.
"(It's) disappointing. I hurt for him because he's having a Pro Bowl season, but he'll be back and he'll play a long time at a high level."
The Texans said Schaub, who is second in the AFC in passer rating and first in yards per pass attempt this season, will have surgery next week for his Lisfranc injury.
Schaub, who has not missed a start since the 2008 National Football League season, threw for 2,479 yards and 15 touchdowns and six interceptions in 10 games this season.
Matt Leinart, the former Heisman Trophy winning quarterback, will take over the starting role against Jacksonville Sunday.
The Texans, who had a bye last week have signed former New York Jets and Washington Redskins quarterback Kellen Clemens as back-up to Leinart.
(Reporting by Frank Pingue in Toronto; Editing by Simon Evans)