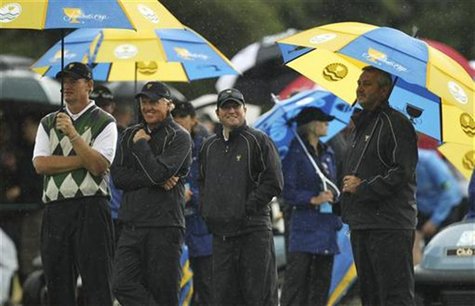 By Michael Davis
MELBOURNE (Reuters) - International team captain Greg Norman backed his South Korean players to hold back the American tide in the Saturday afternoon's four-ball matches.
Pairing Kim Kyung-tae and YE Yang against Tiger Woods and Dustin Johnson appeared an inspired choice, especially with Yang proving a major irritant to Woods in the past.
"Nobody gave them a chance," Norman told reporters. "But they really took it up to them."
Indeed they did, winning 1-up to post a much-needed point for the Internationals on a marathon, rain-soaked day.
Not long afterwards, a third South Korean, KJ Choi, helped nail another point for the Internationals after leaving a long birdie putt on the lip on the 18th.
The U.S. conceded Choi and Australia's Geoff Ogilvy to win 1-up over Steve Stricker and Matt Kuchar.
It was Kim's first win for the week -- extra special alongside his idol, Yang -- and he Kim drained a nerve-jangling right to left putt for par from six feet at the 18th.
It came after the U.S. had thrashed the Internationals 4-1 in Saturday morning's foursomes.
"When I heard I was being paired with Tiger, I was a bit nervous, especially because I have not been playing well the last two days," Kim, 25, said after his unlikely victory.
"I felt a lot of pressure, but because we had the morning off, I think it helps conditioning wise and I think I got used to the course.
"I also think that at the tail end, we trusted each other. That's probably the main reason why we won."
Yang has got under Woods's skin in the past, most famously in the final round of the 2009 PGA Championships where he became the first Asian man to capture a major.
"Having it over Tiger, is an added perk, definitely," he said. "It's nothing personal, but it's good to come back and have a win after 2009 (Presidents Cup) when he beat me in singles. Hopefully it's a continuing streak."
(Editing by Alastair Himmer)