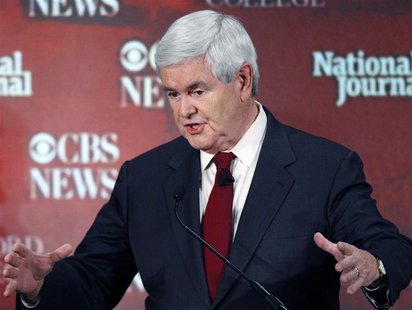 WASHINGTON (Reuters) - Former House Speaker Newt Gingrich now leads the race for the 2012 Republican presidential nomination as support for businessman Herman Cain slips, according to a Fox News poll released Wednesday.
Gingrich has 23 percent support among Republican primary voters, which puts him in a dead heat with Mitt Romney who is holding steady with 22 percent, the poll found.
The poll shows support for Gingrich has more than doubled in the last three weeks. He had 12 percent in late October before the Cain campaign was roiled by sexual harassment allegations. It was also before Texas Governor Rick Perry's debate stumble over a federal agency he would shut if elected.
Cain has fallen to 15 percent down from 24 percent in late October. Perry now has 7 percent support, a drop from 10 percent in October and 19 percent in September.
The remaining candidates are in the single digits.
The poll of 914 registered voters was conducted November 13-15 and has a margin of error of plus or minus three percentage points.
(Reporting by JoAnne Allen; editing by Jackie Frank)