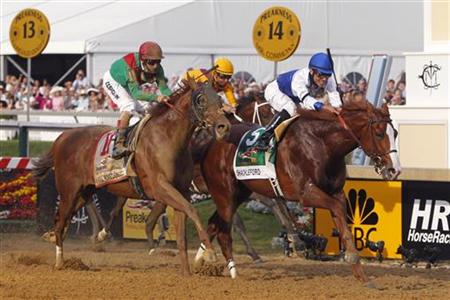 NEW YORK (Reuters) - The connections of Kentucky Derby winner Animal Kingdom confirmed on Friday the colt would run in next month's $1 million Belmont Stakes, the final leg of the Triple Crown.
But New York racing officials are still waiting to know whether Shackleford, who narrowly beat Animal Kingdom in last week's Preakness Stakes, will also enter the June 11 race.
Animal Kingdom's trainer Graham Motion said his three-year-old was a definite starter in the mile and a half classic after recovering well from his half-length defeat to Shackleford.
"He bounced out of the Preakness very well," Motion told reporters.
Although the Triple Crown is out of his reach, Animal Kingdom is seeking to become just the 12th horse to complete the Derby-Belmont double.
Shackleford, currently training at Churchill Downs, was scheduled to arrive at Belmont Park early next week, track officials said, before making a final decision on whether to start him as well.
(Reporting by Gene Cherry in Raleigh; Editing by Julian Linden)