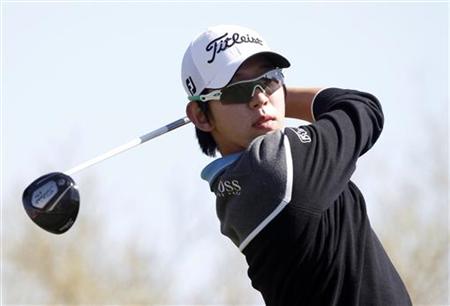 By Tony Jimenez
VIRGINIA WATER, England (Reuters) - South Korean teen-ager Noh Seung-yul found the moat in front of the 18th green three times as he racked up an ugly 11 in the PGA Championship second round Friday.
The 19-year-old, who caused heads to turn last year by winning the Asian Tour money list and landing the European Tour co-sanctioned Malaysian Open title, missed the cut at Wentworth after ballooning to a nine-over 80 and a 15-over tally of 157.
Noh's 11 came after he hooked a wayward drive into the trees and had to play a left-handed chip out into the fairway. With 224 yards to go to reach the green, his third stroke was short and found the water.
He dropped his ball 90 yards from the putting surface but then twice found the same moat at the par-five closing hole before finding the green at the third attempt and two-putting.
"An 11 at one hole, that's probably a first for me," Noh told Reuters through an interpreter. "Obviously it's not a good feeling."
The teen-ager said there was nothing new about the errant tee shot he struck.
"I've been making changes to my grip and I've had a tendency to drive into impossible areas this year," explained Noh. "I then had to play left-handed as I couldn't get a backswing because of a tree right behind me."
Noh's last-hole calamity evoked memories of American Kevin Na's 16 at the ninth in the Texas Open last month, a record high on a par-four hole at a U.S. PGA Tour event.
Next stop for the globe-trotting South Korean, who turns 20 Sunday, is the Memorial Tournament in Ohio starting on Thursday before he bids to book his ticket for the U.S. Open by competing in pre-qualifying for the June 16-19 major championship.
(Editing by Ed Osmond)