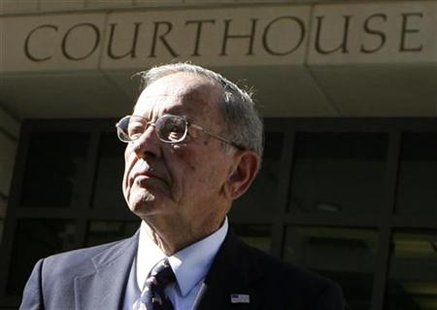 By Yereth Rosen
ANCHORAGE, Alaska (Reuters) - The probable cause of the airplane crash that killed former Senator Ted Stevens and four others last summer was "temporary unresponsiveness" by the pilot, federal safety investigators said in a report on Tuesday.
The National Transportation Safety Board said it was possible the pilot, Theron "Terry" Smith, was suffering some lingering effects from a 2006 stroke that had forced a temporary suspension of his flying license.
"A medical condition leading to transient incapacitation or impairment (of the pilot) could explain the circumstances of this accident," the agency said in its final report on the crash, issued in Washington.
The report added, however, "it is not possible to determine whether such a scenario occurred."
The NTSB also faulted the Federal Aviation Administration for having reinstated Smith's pilot's license two years after his stroke without conducting a more thorough examination of his health.
The probable cause of the accident was listed as the pilot's "temporary unresponsiveness for reasons that could not be established from the available information."
Smith, who was 62 and a former chief pilot for Alaska Airlines, perished along with Stevens and three other passengers when the DeHavilland Otter aircraft he was flying slammed into a mountain slope on August 9, 2010.
The plane was carrying Stevens and a party of eight others back from a fishing lodge near Dillingham, Alaska, when it crashed.
Smith was a highly regarded Alaska aviator with good health habits and a reputation for being careful, according to an earlier NTSB report.
But it was "inappropriate" for the Federal Aviation Administration to reinstate Smith's pilot's license without a more thorough examination of potential effects of his 2006 stroke, the NTSB said in its report Tuesday.
The plane hit the mountainside while executing a climbing left turn that the NTSB report said was inconsistent with Smith's record as an experienced Alaska aviator.
(Editing by Steve Gorman and Jerry Norton)