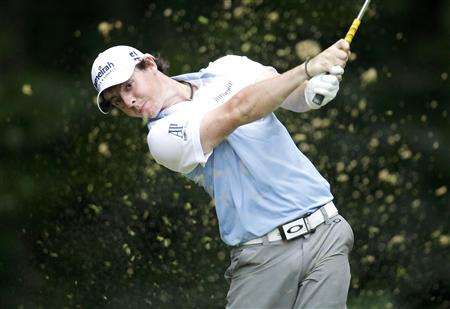 By Mark Lamport-Stokes
BETHESDA, Maryland (Reuters) - Long regarded as the heir-apparent to Tiger Woods as the game's greatest player, Rory McIlroy believes his time has finally come to start piling up major titles.
Aged just 22, the mop-haired Briton will take a commanding eight-shot lead into Sunday's final round of the U.S. Open at Congressional Country Club where he has completely overshadowed his closest rivals in record-breaking fashion.
Despite his tender years, his golfing maturity already matches his sublime talent and the popular Northern Irishman is confident that hard lessons learned from his Masters meltdown two months ago will help him seal victory here.
"From the experience that I had at Augusta, I know now how to approach tomorrow," world number seven McIlroy told reporters after posting a three-under-par 68 in Saturday's third round. "I know what I need to do tomorrow.
"At Augusta, it was all a little bit new to me, going into the final round with the lead. I didn't know whether to be defensive, aggressive, go for it, not go for it but now I know what I need to do.
"I have a clear mind going out there tomorrow, and I just need to stick to my game plan."
In April, McIlroy let the 2011 Masters slip through his hands as he blew a four-shot lead after 54 holes with an ugly closing 80 at Augusta National.
Despite the extreme disappointment of that unforgettable day, he patiently handled his post-tournament media responsibilities with astonishing grace and feels he has since developed the killer instinct required at major level.
"I think they go hand in hand, having a little bit of attitude and a killer instinct," said McIlroy, who has held at least a share of the lead in six of his last seven rounds in the majors.
"That's what you need on the golf course, especially in the position that I find myself in. You can't get complacent. No lead is big enough, so you need to just keep going.
"Today, I tried to set myself little goals, just because it kept me from focusing on the leaderboard, on how far ahead I was. The big goal I set myself was to try and get to 15 (under). I didn't quite achieve it, but I don't mind."
IDEALLY SUITED
McIlroy's game is ideally suited to the rain-softened conditions on Congressional's Blue Course this week.
His long hitting has helped him cope with the challenge of the second longest layout to stage a U.S. Open while he has continually peppered the flags on the unusually receptive greens with his high ball flight.
"Rory looks very comfortable on this course," triple major winner Padraig Harrington of Ireland said after carding a one-over 72 Saturday.
"It's not like the Masters where you can have a double bogey to someone's eagle. It's a different type of test. You don't see too many doubles out there.
"I really do thing it is the right course for Rory to continue leading and I don't see him coming back (to the field)."
For McIlroy, the golfing stars appear to have aligned in his favor.
"The more I put myself in this position, the more and more comfortable I'm becoming," he said after posting the championship's lowest 54-hole score. "I'm definitely thinking a lot better out on the golf course and making better decisions.
"I'm still looking for my first one (major victory). I've put myself in a great position to do that tomorrow, and then we'll see what happens from there.
"Even though it's been a very, very short career, I've learnt a lot from all these experiences. I feel as if I've had enough experiences leading majors ... that the time is right to go ahead and get my first one."
(Editing by Ian Ransom)