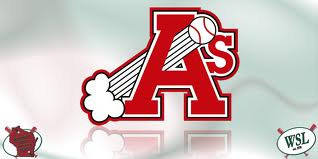 SHEBOYGAN, Wis. (WHBL)- Weather permitting, the Sheboygan A's are scheduled to wrap up their home schedule of regular season games tonight against the Kenosha Kings. Bad weather is in the forecast and A's fans are urged to check the website where weather-related news will be posted.
The A's are hoping the forecast storm will miss Sheboygan, because they want to play. The Sheboygan A's are hot.
They posted their seventh straight win in dramatic fashion over the Appleton Legends Tuesday night, coming from behind to score three runs and take a 5-3 victory.
With one out in the eighth inning, Grant Berkovitz was safe sliding on a hustling double. After a second out, Ryan Solberg delivered a clutch single to knock in Berkovitz with the tying run. And then Charlie Reschke unloaded a long home run to give the A's a 5-3 lead and the eventual win.
Spot starter Max Karmsky did his job, keeping the A's in the game against the solid Appleton team until giving way to eventual winner Harry Steldt in the sixth. Steldt blanked Appleton the rest of the way.
An error helped Appleton open scoring in the second, but the A's tied it in the third. Widh one out Derek Peake singled and went to third on Taylor Schwarz's double. Peake scored on Colin Willis sacrifice fly. Appleton added single runs in the fifth and sixth, but the A's came back to 3-2 on Willis' triple and an error.
That set up the heroics in the eighth.
The A's are now 25-15 for the season and 10-8 in the Northeastern Wisconsin league.