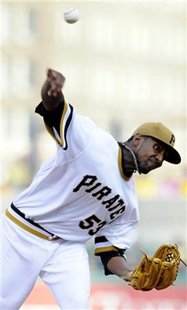 ATLANTA (Reuters) - The Pittsburgh Pirates capitalized on some pinpoint pitching to defeat the Atlanta Braves 3-1 on Monday and remain tied for the NL Central division lead.
Starter James McDonald struck out nine batters in 5 1/3 scoreless innings then watched as four Pittsburgh relievers contained the Braves to preserve his win and keep the surprising Pirates (53-47) level with the St Louis Cardinals.
"He (McDonald) came out and was ready to compete from pitch one," Pittsburgh catcher Michael McKenry told reporters. "He battled his rear end to give us a chance today, he was awesome.
"It's been a whirlwind year and it's been fun."
Should Pittsburgh maintain their remarkable season, the team could reach the post-season for the first time since 1992.
McDonald (7-4) left the game with a 3-0 lead in the sixth inning after the Braves loaded the bases with one out, but reliever Chris Resop got two straight outs to escape the jam.
Pittsburgh scored twice in the second inning and once in the sixth to beat red-hot starter Tim Hudson (9-7), who had not lost in his previous six starts.
"They made their hits count tonight," Hudson said after he struck out eight over seven innings. "They're a good club. They're not in first place by accident."
Atlanta's Chipper Jones came off the disabled list (knee) and hit an eighth-inning homer in his first game since July 8 to complete the scoring.
Pirates closer Joel Hanrahan appeared in the ninth to nail down the game and record his 29th save of the season to complete a game delayed by more than two hours because of rain.
(Writing by Jahmal Corner in Los Angeles; Editing by John O'Brien)