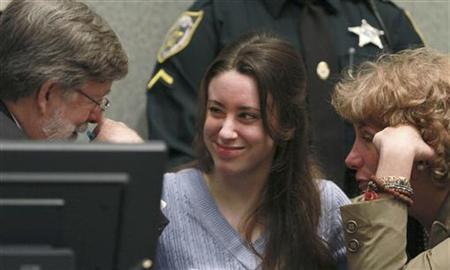 By Barbara Liston
ORLANDO, Fla (Reuters) - A non-profit group served Casey Anthony with a lawsuit on Wednesday seeking to recoup more than $100,000 it spent on the massive 2008 search for her 2-year-old daughter Caylee, who was later found dead.
The lawsuit filed by Texas EquuSearch is the second civil suit Anthony will face after she is released from jail on Sunday after being acquitted of killing the toddler.
Anthony is also facing a defamation lawsuit from a woman, Zenaida Gonzalez, stemming from her lies to investigators looking into Caylee's disappearance that a nanny by that name had kidnapped the child.
A Florida jury found 25-year-old Anthony not guilty last week of first-degree murder stemming from the 2008 death of Caylee, whose skeletal remains were later found in woods near the Anthony family home.
Casey Anthony was convicted of misdemeanor charges of lying to detectives searching for her then-missing daughter and sentenced to the maximum four years in jail.
She will be released this weekend after receiving credit for time served awaiting trial and good behavior.
The Texas EquuSearch lawsuit alleges fraud and unjust enrichment, claiming Anthony encouraged the organization to mount what became one of the largest and most expensive searches in its 11-year history despite knowing Caylee was dead.
The lawsuit points to the opening statement in Anthony's murder trial, when her attorney Jose Baez told jurors Caylee accidentally drowned on June 16, 2008 in the family's backyard pool. Caylee "never was missing," Baez told jurors.
As a result of the resources devoted to finding Caylee, the search organization was forced to turn down 15 other families who sought its help during the same time, the lawsuit stated.
It said the search saved Anthony's defense team the cost of hiring its own investigators to look for Caylee.
"Casey Anthony knew that her apparent 'cooperation' with the massive searches coordinated by TES created an appearance that she was a victim of law enforcement's unjust investigation and that she was a concerned mother seeking her missing child's return," the lawsuit states.
Texas EquuSearch founder Tim Miller said Anthony's parents, George and Cindy, never wavered from their contention Caylee had been abducted and was still alive, and Casey never contradicted that assertion.
But Miller said that at the start of the search Casey Anthony's lawyer blocked him from questioning her.
"Jose Baez said, 'You can do anything you need to do, but don't ask my client any questions about her daughter,'" Miller told Reuters. "I wasn't going to step over that line."
Separately, the lawyer in the defamation suit filed an emergency motion on Wednesday seeking to compel Anthony to appear for a videotaped deposition.
Lawyer John Morgan argued he had "a good faith basis to believe that the defendant, Casey Anthony, will leave the jurisdiction of this court, disguise herself, change her name, etc., making it impossible to ever depose her" once she is released from jail.
Morgan plans to take Anthony's deposition on July 19 at his downtown Orlando law office, two days after her release, but has offered to conduct it in the jail.
(Editing by Colleen Jenkins, Jerry Norton and Cynthia Johnston)