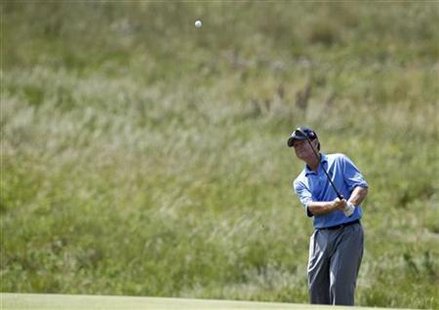 By Tony Jimenez
SANDWICH, England (Reuters) - Tom Watson was within a whisker of achieving a golfing miracle when he almost won the 2009 British Open and the veteran American believes a "50-something" could challenge strongly for the Claret Jug again this week.
The five-times Open champion failed to hole a four-footer for victory on the 72nd green at Turnberry two years ago before losing to countryman Stewart Cink in a playoff.
With fellow former major champions Sandy Lyle, Bernhard Langer, Tom Lehman and Mark O'Meara, all now into their sixth decade, teeing up on Thursday, Watson said he felt the course could suit the older player and perhaps produce a first over-50 major winner.
"I don't see why it's not feasible for a 50-something to win this week," Watson, 61, told Reuters in an interview on Tuesday.
"Links courses are great equalizers. You don't have to pound the ball or hit the ball particularly long although they have added length to many of the holes here."
The oldest player to win a major was Julius Boros, who was 48 when he lifted the U.S. PGA in 1968. Jack Nicklaus won the Masters at 46 in 1986 while the oldest British Open winner was Old Tom Morris, also 46, in 1867. The oldest British Open champion of the modern era was Roberto Di Vicenzo, who was 44 in 1967.
Watson conceded that some of the holes at the extended 7,211-yard, par-70 layout would prove particularly difficult for him to negotiate.
"There are two 240-yard par-threes at the third and 11th where length is definitely an advantage," he said while attending a MasterCard presentation at Royal St George's.
"But I am here to contend, without a doubt. I may have some problems with those two par-threes but if I'm playing well I can compete on this course.
"I competed pretty well here in 2003 when I finished 18th. I hope that maybe this year I can prove Sandwich is more my friend than my enemy," added the 1975, 1977, 1980, 1982 and 1983 British Open winner.
Watson has always loved the challenge that links courses represent.
"Links golf is a different type of golf," he said. "We only play it once a year and it's here at the Open.
"I hope for ever more too because it tests you in a different way to the normal way of playing. The uniqueness of it is very special to the game."
SANDWICH CHANGES
Watson, who won the U.S. Senior PGA Championship in May, also said he liked the changes the organizers had made to the Sandwich layout.
"When I first played here the fairways were more than a bit rejecting," he explained. "But they've addressed that now and have made some sensible changes to allow the players a chance to stay on the fairways.
"Before we had a one in 10 chance of getting the ball on the fairway at the 17th and 18th but they have added width to the 17th and moved the 18th to the right and added some bunkers on the left which I got in during practice yesterday.
"I barely got out in three shots and had to take my medicine. That's what I do in practice rounds, I'll get in those bunkers and try to get out with a club that's really marginal," added Watson.
"Most of the time I won't get out and it's a reminder to me to take enough club to get out. When you hit the wall of the bunker and it goes back and buries in the sand you're dead -- that's links golf and you must stay out of the bunkers as best you can."
Watson said experience was likely to be an important factor in determining the winner of the third major of the season.
"That's what I said at Turnberry two years ago," he said. "I had played that course six times and most of the kids had only played it once and had never played it in the winds we played in on the Friday, Saturday and Sunday so I had an advantage.
"My game's not bad right now. I feel I'm on the upswing, I'm playing well, driving well and putting well too."
(Editing by Martyn Herman)