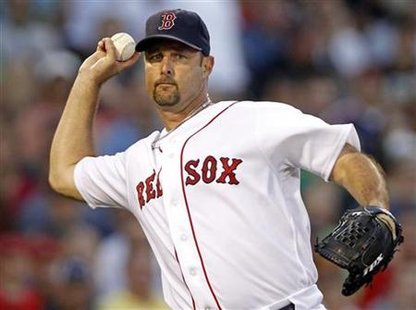 BOSTON (Reuters) - Red Sox knuckleballer Tim Wakefield kept the Blue Jays batters off balance as Boston scored a 6-4 win over Toronto at Fenway Park on Wednesday.
Jacoby Ellsbury's two-run double in the fourth was the Red Sox fifth consecutive hit in the inning and capped a four-run rally with two outs that gave Boston a 6-3 lead.
"The biggest thing there was no giving at-bats away, knowing we can continue an inning with two outs," Ellsbury said.
The Blue Jays tallied a run in the first and two in the third inning while solo homers by Ellsbury and Kevin Youkilis in the first two innings kept the game tight.
"I was just trying to get a pitch I could drive early in the count," Ellsbury said. "Fortunately he gave me something I was looking for over the plate."
Wakefield spread nine hits across seven innings and had tremendous control of his floater, striking out seven batters and walking just one.
"Early on I thought there were some balls that were up, and normally with Wake when they're up, they get hit a little bit," Red Sox manager Terry Francona said. "Settled down and gave us what we needed. He has a way of doing that."
Blue Jays ace Ricky Romero allowed all six Boston runs on nine hits, walking three and striking out two before exiting the game with one out in the fifth inning.
"I just don't know what it is about this team," said a rueful Romero, who is 2-6 lifetime against the Red Sox.
"I don't know if they see the ball well off me, I don't know if I tip something."
Red Sox closer Jonathan Papelbon gave up a run in the ninth inning before striking out the side for his 19th save of the season.
(Reporting by Mike Mouat in Windsor, Ontario; Editing by Peter Rutherford)