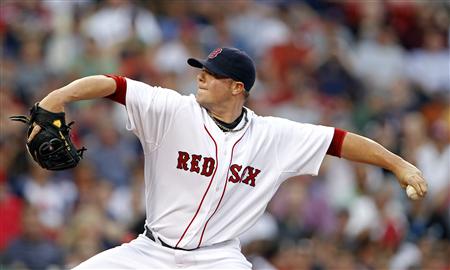 BOSTON (Reuters) - Boston pitcher Jon Lester's promising start against the Toronto Blue Jays ended abruptly on Tuesday when the left-hander was forced to leave the game early due to a strained muscle on the left side of his back.
The left-hander tossed four hitless innings before succumbing to the injury as the Red Sox held on for a 3-2 victory over the Blue Jays.
Lester struck out five batters and allowed just one base-runner on a walk but was unable to pitch enough innings (five) to pick up a win and improve on his 10-4 record.
"I thought I threw the ball pretty well, it's a shame I had to waste it tonight," the 27-year-old told reporters.
Without Lester, who will be examined on Wednesday, Boston used four relievers to scratch out the win, the game ending with outfielder Darnell McDonald throwing out Toronto's Edwin Encarnacion at home plate.
Matt Albers (3-3) came on as relief for Lester and picked up the win after giving up a single hit and issuing two walks for no runs over the next two innings.
(Writing by Jahmal Corner in Los Angeles; Editing by John O'Brien; To comment on this story email sportsfeedback@thomsonreuters.com)