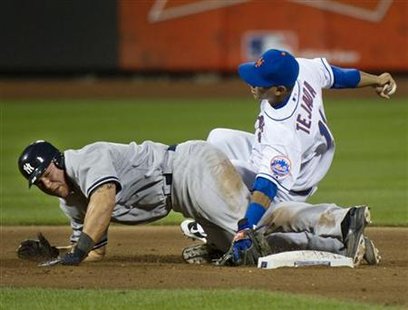 NEW YORK (Reuters) - The red-hot New York Yankees silenced a record crowd at the Mets' Citi Field with a 5-1 win over their cross-town rivals in the Subway Series opener on Friday.
A boisterous gathering of a little more than 42,000 watched the Yankees extend their winning streak to six games after their first two batters singled and scored on an RBI double by Mark Teixeira.
Robinson Cano then drove in Teixeira to give the Yankees a 3-0 lead in the first inning.
The Mets reduced the deficit with a run in the second inning but missed an opportunity to turn the game in their favor in the fifth, leaving the bases loaded when Angel Pagan struck out.
In the seventh inning, Jose Reyes tried advance to third base when a relay throw from Yankees outfielder Curtis Granderson bounced away from shortstop Eduardo Nunez.
Nunez recovered and threw the ball to Alex Rodriguez who made a sweep tag that appeared to miss Reyes as he slid into third base.
"I think I just touched his sleeve," Rodriguez told reporters. "I watched the replay and I wasn't sure."
Reyes was called out on the play and instead of having a runner at third base with one out the Mets had two outs with nobody on base and did not threaten again.
"If he's safe the momentum goes back in their favor," said Granderson.
The Yankees scored runs in the eighth and ninth to make the game safe.
Yankees starter Ivan Nova (8-4) struck out three over five innings, allowing seven hits and the Mets' solitary run.
Mets starter Jon Niese (7-7) took the loss after giving up three runs on nine hits, striking out seven over six innings.
"I felt I made good pitches," Niese said.
"They just put some good swings on them. I threw too many fastballs right away. Before I could change it, the damage was done. Overall I felt good. It's tough to win ball games giving up three runs in the first."
(Reporting by Mike Mouat in Windsor, Ontario; Editing by John O'Brien)