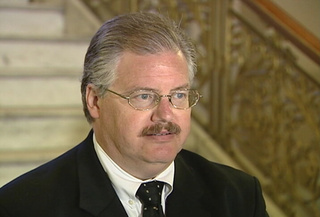 MADISON, Wis. (WTAQ) - The state of Wisconsin has filed briefs, asking to join the federal civil lawsuit filed against former Calumet County District Attorney Ken Kratz.
Specifically, the state wants to challenge Kratz's assertion that he was acting in his role as District Attorney, and that the state might be liable for any damages.
The attorney general's office suggests to the federal court that it try the Van Groll case first, and then decide any liability issues with the state afterwards.
Stephanie Van Groll sued Kratz, seeking damages after she said Kratz sent her illicit text messages.
No trial has been set.