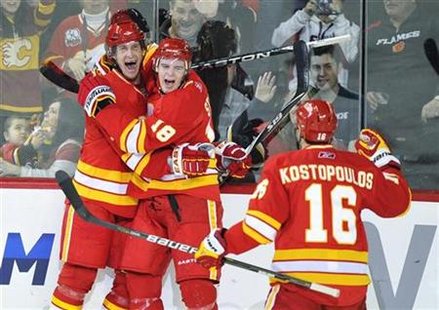 TORONTO (Reuters) - Calgary Flames forward Tom Kostopoulos has been suspended six games for a vicious hit that will sideline Detroit Red Wings defenseman Brad Stuart for about eight weeks with a broken jaw, the NHL said Sunday.
Kostopoulos, who was assessed a minor penalty on the play, will also forfeit nearly $30,000 for the incident during his team's 5-4 shootout loss Friday.
Stuart needed help to get to his feet after the hit, which occurred midway through the third period of the game, and left a large pool of blood on the ice.
The NHL said a number of factors, including the fact that Stuart was not in possession of the puck when the blow was delivered, had been considered in reaching the decision -- one of the stiffest penalties handed down this season.
"Kostopoulos delivered a blow to the head of an unsuspecting and vulnerable player," Colin Campbell, the NHL's senior executive vice president of hockey operations, said in a statement.
"As well, he targeted the head of his opponent and, while the hit was not from the blindside, the head was the principle point of contact."
The NHL said Kostopoulos will be eligible to return January 22 at Vancouver.
(Writing by Frank Pingue, Editing by Ossian Shine)