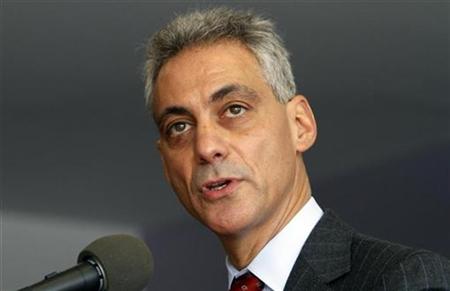 CHICAGO (Reuters) - Former White House chief of staff Rahm Emanuel has widened his lead in the Chicago mayor's race and is close to reaching the majority needed to win without a runoff, a new Chicago Tribune/WGN poll has found.
Emanuel received 49 percent of the support in the poll, a hair short of the majority needed to succeed longtime Mayor Richard M. Daley outright after the election on February 22.
Gery Chico, a former Chicago Board of Education president and top Daley aide, received 19 percent in the poll conducted Saturday through Wednesday and released late Thursday.
The poll showed Emanuel extending his lead from a month earlier when he had 44 percent support to 21 percent for former U.S. Senator Carol Moseley Braun and 16 percent for Chico. Braun fell to third at 10 percent in the latest poll.
In January Emanuel was ordered off the ballot because of residency requirements, only to be reinstated by the Illinois Supreme Court after appeals. He has led the polling for the mayor's race throughout.
If no one receives a majority of votes cast, the top two candidates face a runoff election April 5.
(Writing by David Bailey; Editing by Jerry Norton)