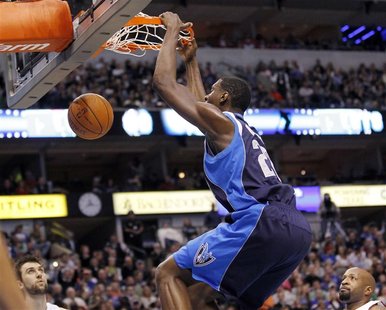 (Reuters) - The defending NBA champion Dallas Mavericks beat the Toronto Raptors 99-86 on Friday for their first win of the season boosted by 56 points from their reserves.
The Mavericks were the first champions to open their title defense with three consecutive losses since the Boston Celtics started the 1969 season losing four in a row.
Reserve center Ian Mahinmi sparked the Mavs with 19 points in 28 minutes of action as the bench players carried the team to victory.
Fellow reserves Jason Terry scored 18 points and former Raptor Vince Carter added 10 points. Mavs talisman Dirk Nowitzki was held to 18 points.
The Raptors trailed through much of the game and surged ahead in the third quarter, but the Mavericks hit back and took the lead for good with a 16-2 run at the end of the third quarter to lead 77-70.
Andrea Bargnani led the Raptors with 30 points, and Leandro Barbosa scored 20 points.
(Reporting by Mike Mouat in Windsor, Ontario. Editing by Alastair Himmer)