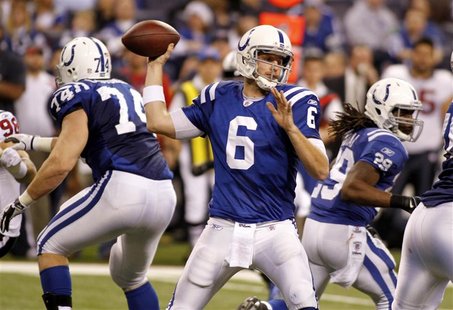 (Reuters) - The Indianapolis Colts scored a touchdown in the final minute to stun AFC South rivals Houston 19-16 at Lucas Oil Stadium on Thursday.
It was the second consecutive win for the Colts, who lost their first 13 games of a miserable season. The Texans (10-5), who have already clinched the division, suffered their second loss in a row.
With several key players out with injuries both teams struggled offensively, scoring one touchdown each.
The Colts continue to miss quarterback Peyton Manning, who has been out following off-season neck surgery and were without tight end Dallas Clark.
The Texans started T.J. Yates in place of injured quarterbacks Matt Schaub and Matt Leinhart and wide receiver Andre Johnson remains out with a hamstring injury.
Dan Orlovsky, starting in place of Manning, led the Colts on a 12-play, 78-yard scoring drive in the final two minutes of the game, capping the drive with a one-yard pass to Reggie Wayne in the corner of the end zone with 19 seconds left.
"He walks by my locker every day and says: 'Throw left,'" Orlovsky told reporters. "He walked by me in pre-game tonight and said: 'Throw left.' I think he deserved the opportunity."
The Texans scored their touchdown in the opening minute.
Brian Cushing sacked Orlovsky on the first play of the game and two plays later Arian Foster scored on a nine-yard run.
"I've got to give them a lot of credit," Texans head coach Gary Kubiak said. "Dan (Orlovsky) did a great job on that last series.
"If we had made one more play on offense, or one more play on defense, we wouldn't be having this conversation."
In between the two touchdowns, the teams settled for field goals with Colts kicker Adam Vinatieri connecting on four of five attempts while Neil Rackers was three-for-three for the Texans.
(Reporting by Mike Mouat in Windsor, Ontario ;Editing by Peter Rutherford)