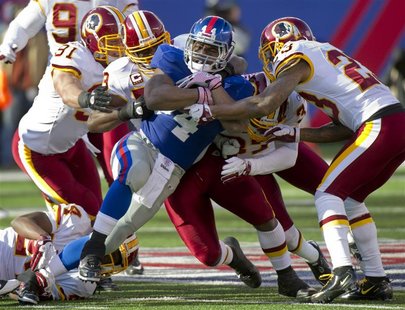 By Larry Fine
EAST RUTHERFORD, New Jersey (Reuters) - The New York Giants stumbled out of a share of first place in the NFC East by falling 23-10 on Sunday in a humbling loss to the lowly Washington Redskins.
The Redskins, who also beat the Giants in the season opener, dominated their lackluster hosts, surging to a 17-3 first half lead as they repeatedly converted on third-and-long situations to keep drives alive against an ineffective New York defense.
Redskins coach Mike Shanahan said it was Washington's best defensive effort of the National Football League season.
"Everybody really concentrated on their job. To play the way we did you have to have everybody doing their job and being focused," Shanahan told reporters. "Big time third-down play by the entire team."
New York's potent offense also stalled against the Redskins, with receivers dropping passes and quarterback Eli Manning throwing three interceptions on a chilly day in the Meadowlands.
"I am very disappointed in how we played today," Giants coach Tom Coughlin said. "I expected more."
The Giants dropped to 7-7, one game behind the Dallas Cowboys for the divisional lead. The Redskins, losers of eight of their previous nine games, improved to 5-9.
"We didn't play well," said New York running back Brandon Jacobs, who rushed for 33 yards on eight carries. "We're disappointed in each other. We disappointed our fans. We just got to play better."
Washington quarterback Rex Grossman completed 15-of-24 passes for 185 yards with one touchdown and two interceptions, but was at his best on critical third-down plays.
Grossman beat the Giants defense on a third-and-12 with a 19-yard completion to Donte Stallworth to set up a 36-yard field by Graham Gano for a 3-0 first-quarter lead.
The Redskins made it 10-0 early in the second quarter on a 20-yard strike from Grossman to Santana Moss on a third-and-eight. That drive was extended when Grossman hit Stallworth for 16 yards on a third-and-17 and then connected with Jabar Gaffney for seven yards on the fourth-and-one.
Washington converted a third-and-14 with a 16-yard pass to Gaffney on their next drive, which ended with a six-yard run by fullback Darrel Young for another touchdown and 17-0 lead.
Manning, who was let down by numerous dropped passes from his receiving corps, including what looked like a long TD connection to Hakeem Nicks in the first quarter, completed 23-of-40 for 257 yards but had three intercepted.
"They played better than us, that's all it comes down to," said Manning, who had directed the Giants to five fourth-quarter comeback wins this season but never came close to making the Redskins sweat. "We had opportunities for some big plays early on that we didn't capitalize on.
Despite a poor showing that sent most of the nearly 80,000 fans home with almost a quarter to play, the Giants can still clinch a postseason berth. They need wins next week against the New York Jets and in the season finale against the visiting Cowboys to win the division title.
"I'm disappointed and a little bit embarrassed, knowing what we have at stake in these last games to get into the playoffs," said Giants defensive end Justin Tuck. "Our backs are against the wall."
(Editing by Frank Pingue)