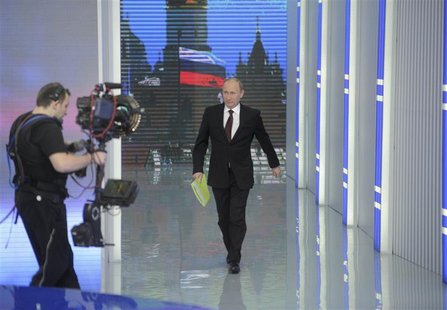 MOSCOW (Reuters) - Russian Prime Minister Vladimir Putin on Thursday held his annual televised call-in show less than a week after thousands took to the streets to protest against his rule and to demand a re-run of recent parliamentary elections.
Below is a selection of comments on Putin's performance and what it says about his standing as paramount leader of Russia:
SERGEY EZIMOV, FUND MANAGER, WERMUTH ASSET MANAGEMENT
"He called Kudrin his friend. That basically spoiled the guy's (Kudrin's) ability to market a liberal party if he ever wanted to.
"Putin's talk in general is very populist: increase of pensions, strong army, hawkish foreign policy, culture, church. What is different is that he now sounds nationalistic. His PR people probably think that many Russians are happy to buy a nationalistic story.
"On the political front he chose a tactic of putting the blame for all misfortunes (corruption, inefficiency of bureaucracy etc) on middle management, i.e. on regional authorities. He thus tries to whiten ...federal government.
"There were a couple of hot questions to Putin related to election results and consequent demonstrations. He played down the theme by saying that election results are in line with the real support of the United Russia party in the country."
YAROSLAV LISSOVOLIK, RUSSIA STRATEGIST, DEUTSCHE BANK
"There were some positive signals -- in particular on the potential participation of Kudrin in the government .. I'd say the net result is a positive signal to the markets.
"Regarding... the possibility of greater decentralization of power into the regions and the possibility of some modifications... to allow regions to elect governors - I think those were encouraging signs.
"(The comments about Kudrin show) there is support coming from Putin. The acknowledgement of the contribution of Kudrin to macroeconomic stability and the importance of macroeconomic stability is a positive signal."
MARIA LIPMAN, POLITICAL ANALYST, CARNEGIE MOSCOW CENTER
"It was interesting that they started the show with the protests and election violation - Putin took on the issue from the very beginning. That said he decided to dismiss it. He looked impatient, like it was not the most important thing. His tone was condescending."
AURELIJA AUGULYTE, ANALYST, NORDEA BANK (COPENHAGEN)
"Putin is not completely wrong in saying that the social turmoil that occurred in Russia after the elections is not only about politics but to a large extent about economics - the crisis caused much hardship, thus it's natural that people are not satisfied, and the country leaders are the first to blame."
"Putin and Medvedev are obviously trying to appease the population and foreign investors. In my view Putin's comments on Kudrin are no exception - Putin is trying to name Kudrin his "friend" because he knows that people love him (Kudrin) and that becoming his public enemy at the moment would be a political mistake."
ROLAND NASH, CHIEF INVESTMENT STRATEGIST, VERNO CAPITAL
"Putin always comes across very well on these calls but he has to keep working harder to maintain his credibility. I've never seen so much respect given to opposition parties -- he realizes the people protesting on Bolotnaya square have a point. Some of his comments -- such as that protesters were paid -- show that he is not completely in touch but overall it's a step in the right direction.
"Kudrin bridges a gap in that he is a proven technocrat and very close to Putin -- he is respected in government and by investors. It would be surprising if he did not come back to government."
TOM MUNDY, CHIEF STRATEGIST, OTKRITIE CAPITAL
"On standard questions about the economy he is very much on script -- he knows all the numbers and is very comfortable. Where he is less comfortable is in response to the protests -- he says people have a right to voice an opinion but is dismissive of the reasons behind the protests. There have been lots of allusions to international influence.
"It was interesting what he said about local government. I would not be surprised if there was a reshuffle of local government so it becomes more accountable. I think that would give voters the feeling they have a voice.
"Kudrin is very close to Putin and the strength of his expression -- that Kudrin had never left his team -- was notable. There is clearly space for Kudrin in the next cabinet. This will be welcomed by the market as he is a very respected politician."
ALEXEY BACHURIN, HEAD OF RUSSIAN CASH EQUITY TRADING AT RENAISSANCE:
"This is neutral for his popularity. He said all the right things so people who were supporting him could keep supporting him. But he could have said something to win the hearts of the people who are in between.
"He could say more things about an honest process of elections ... he's not winning any fresh votes. He didn't say anything to win the votes of the other crowd - he could have used this big event to push forward his rating."
(Reporting by John Bowker, Megan Davies and Andrey Ostroukh, Editing by Douglas Busvine)