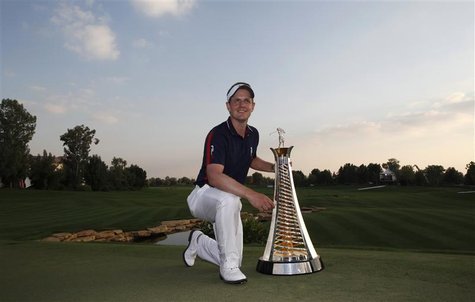 By Ian Ransom
MELBOURNE (Reuters) - Fresh from graduating top of the class on the U.S. and European tours, Luke Donald plans to use this week's Australian Masters as a study tour of Melbourne's famed sandbelt golf courses.
Donald, who studied art theory and practice at Chicago's Northwestern University, kicked off his course architecture career with a project in Vietnam earlier this year.
The 34-year-old hopes to find some inspiration as he strolls the fairways at Victoria Golf Club and the neighboring Royal Melbourne.
"(Victoria) looks amazing. It's one of the reasons I wanted to come to Australia. I've heard so many good stories about the sandbelt and their famous courses," the world number one told reporters on Wednesday.
Famed course architect Alister MacKenzie, the mastermind behind Augusta National Golf Club, designed Royal Melbourne and had a hand in adjacent Victoria's layout, the venue for the A$1.5 million Australian Masters starting on Thursday.
"I'm a big MacKenzie fan. I'd love to get further into golf architecture and I think this is a great place to start looking at some of the best courses in the world and I'm excited to be here," he added.
"I just started my first project in Vietnam this year and it's something I'd like to get into further. Having a bit of an art background I'd love to do that."
The Briton finished third at the Dubai World Championship on Sunday to seal top spot in the European Tour money list after winning the season-ending Disney Classic on the U.S. Tour to finish top of the Order of Merit, the first player to win both money crowns.
His phenomenal consistency, with 14 top 10 finishes from 19 events in the United States, helped him secure the circuit's Player of the Year on Tuesday, the first Briton to win the peer-voted award since 1990.
NO SCALING BACK
Like compatriot and former world number one Lee Westwood, a major trophy has proved elusive, prompting pundits to blame Donald's hectic schedule as he criss-crosses the globe to play both tours.
Donald, who boarded another long-haul flight to get to Melbourne from the Middle East, dismissed the idea of scaling back his commitments in 2012 to have a smoother run-up to the year's four majors.
"Certainly there have been times this year where I have played a lot and I had to really dig deep for a little bit of extra energy to find enough to compete well but I certainly feel like I'm not dragging too much right now," said Donald, whose Australian Masters appearance will be his last tournament for the year.
"In 2012, my schedule will be very similar, I'll concentrate on both tours. Obviously, being a Ryder Cup year, I'm excited to try to earn enough world ranking points to get into that.
"The only time I felt a little bit over-golfed was around the U.S. Open this year. It was a mixture of maybe playing one event too many around that time and a mixture of going through a little bit of an illness ... But otherwise I think I managed my schedule pretty well."
Donald has had to balance golf with marriage and fatherhood in the past few years, and has ruefully shelved his oil-painting hobby. The artistic bent still helps on the course, though.
"I think as an artist I'm able to kind of use both sides of my brain. I've always felt it helped me in the golf course just in terms of a visual way, just the way I visualize a painting coming together, you can visualize a short game or a shot over a bunker or a shot between trees, fading it around.
"I auctioned off (a painting) for the PGA Tour a long time ago that sold ... I don't have that many, I've been offered quite a few times to sell them but I'd rather keep them for myself."
(Editing by Peter Rutherford; To query or comment on this story email sportsfeedback@thomsonreuters.com)