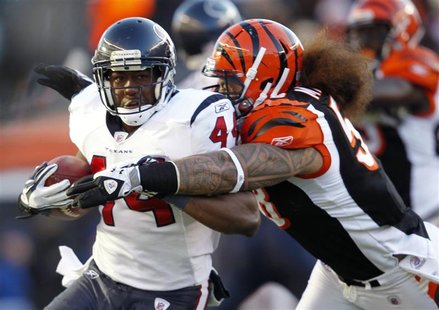 (Reuters) - The Houston Texans reached the National Football League's playoffs for the first time after a dramatic 20-19 victory over the Cincinnati Bengals on Sunday.
The Texans, who came into the league as an expansion team in 2002, wrapped up the AFC South divisional title with their seventh straight win.
They joined the Green Bay Packers and San Francisco 49ers as the first teams through to the playoffs with three weeks of the regular season still to go.
The visiting Texans (10-3) sealed their place when rookie quarterback T.J. Yates threw a six yard touchdown pass to Kevin Walter with just two seconds to go in the game against the Bengels.
Yates started the season as Houston's third-choice quarterback but was promoted to the starting lineup after injuries to the players ahead of him.
Houston trailed 16-3 at halftime and were 19-13 down with just 2:21 left when Yates led a 13-play drive from his team's 20 yard line to complete the comeback.
The Bengals (7-6) have now lost three of their last four games to damage their hopes of grabbing one of the AFC wild card hopes.
(Reporting by Simon Evans; Editing by Julian Linden)