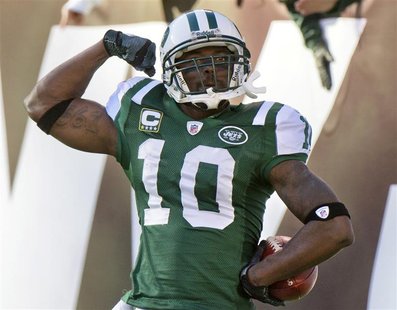 By Larry Fine
EAST RUTHERFORD, New Jersey (Reuters) - The New York Jets roared to a 37-10 victory over the Kansas City Chiefs on Sunday that boosted their hopes of landing a berth in the National Football League playoffs.
The win lifted the Jets to 8-5 and dropped Kansas City to 5-8 with three weeks of the regular season to go.
The Chiefs, who had scored just 35 points total in losing four of their previous five games, were completely outclassed and out of the game by the intermission, trailing 28-3.
New York outgained Kansas City 253 yards to 4 in the first half, holding the Chiefs and back-up quarterback Tyler Palko to minus-15 net passing yards thanks to three Jets sacks that resulted in 26 yards lost.
"I love the way we started the game," said Jets coach Rex Ryan. "I think that was our best game of the year."
The fast start saw Jets quarterback Mark Sanchez complete 13-of-17 passes for 181 yards and touchdown connections to Santonio Holmes and LaDainian Tomlinson. Sanchez also ran in from one yard out for another score, while running back Shonn Greene gained 67 yards including a seven-yard touchdown burst.
Sanchez added a second rushing touchdown on a three-yard run in the third quarter.
With the benefit of a comfortable lead, New York relied on their rushing attack in the second half and finished the game with 159 yards on the ground.
"I'm happy we had another opening drive touchdown and set the tone early," said Sanchez. "We had some explosive plays and the run game really took off.
"We really relied on our running game today and that was great. That's a quarterback's best friend."
The hard-working Greene ended up with 129 yards on 24 carries, and picked up an additional 58 yards on three catches, including a screen pass that went for 36 yards.
"The Jets put a lot of pressure (on opponents)," said Kansas City quarterback Palko, who was sacked five times. "They have guys all over the place. It seems like they play with 12 or 13 guys sometimes."
With the Cincinnati Bengals and Tennessee Titans both dropping to 7-6 after Sunday losses, the Jets found themselves with an inside track to a postseason wildcard berth.
The Jets travel next week to Philadelphia to play the Eagles, before finishing the season against the New York Giants and Miami Dolphins. Next up for the Chiefs will be a visit by reigning Super Bowl champion Green Bay Packers.
Ryan said he took nothing for granted and that the Jets would be challenged by an Eagles team who have exciting quarterback Michael Vick back in action after being sidelined by broken ribs.
"We have to take care of our business," said Ryan, casting a wary eye on Vick and the explosive (5-8) Eagles.
"That guy's a ridiculous talent. We'll definitely have our hands full. That team is absolutely loaded and got as much speed as any team in the league. We gotta get our track shoes for that game."
(Editing by Julian Linden)