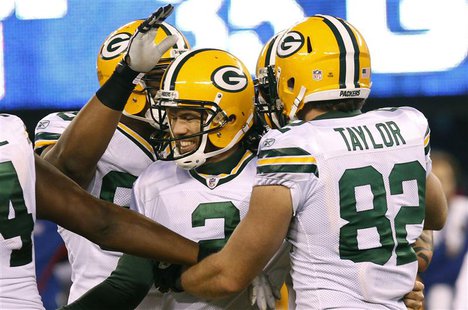 By Larry Fine
EAST RUTHERFORD, New Jersey (Reuters) - The Green Bay Packers celebrated the clinching of a playoff berth on Sunday by beating the New York Giants 38-35 on a last-second field goal to maintain their unbeaten record.
The Packers, who sewed up a postseason spot when NFC North rivals the Chicago Bears lost earlier in the day, briskly moved the ball into field goal range for the win after New York tied it with a last-minute touchdown and two-point conversion.
Taking possession on their own 20 with 58 seconds left, Rodgers hit tight end Jermichael Finley for 24 yards, then connected with a remarkable 27-yard dart to Jordy Nelson down the sideline with the pass rush closing in.
Two more short completions by Rodgers set up a 30-yard field goal by Mason Crosby as time expired.
The Packers improved to 12-0 on the season by overcoming the lively challenge by the Giants, who were coming off an embarrassing 49-24 loss to New Orleans.
Despite a spirited effort, New York lost their fourth game in a row and fell to 6-6, one game behind the NFC East-leading Dallas Cowboys (7-5) with four games to go in the National Football League's regular season.
Green Bay, who have won most of their games in comfortable fashion, took a measure of satisfaction out of engineering a final drive to win a game.
"We've had a number of games this year that we've won by a couple of scores and get to kneel down at the end of the game," said Rodgers, who completed 28-of-46 throws for 369 yards, four touchdowns and one interception.
"To get the ball on the 20, backed up under a minute, and take it down there and get it into a chip-shot field goal range is pretty special."
Green Bay coach Mike McCarthy agreed: "The two-minute drive is something we practice every week. This was a drive that we needed. Aaron Rodgers did a great job running the drill. Just a classic two-minute drive.
"You're going to have to complete two-minute drives to win a championship."
UNDEFEATED SEASON
Green Bay, who had beaten opponents by an average of more than 14 points a game, held a 21-17 lead after the first half and both teams continued to move the ball in the second half.
The Giants fell behind by 11 but battled back within 28-27 after a 50-yard field goal by Lawrence Tynes early in the fourth quarter.
The Packers restored their eight-point lead on a seven-yard TD catch by Donald Driver but New York answered with a 69-yard touchdown drive, and D.J. Ware bulled up the middle for a two-point conversion to tie it before Green Bay executed a hurry-up drive to perfection for the win.
McCarthy said it was too soon to talk about prospects of an undefeated season.
"We have other goals in front of us," he said, looking ahead to clinching the division, a first-round postseason bye and home field advantage. "I hope we're in a position to talk about it."
While the Giants had their losing skid extended, they took solace in giving Green Bay their toughest game of the season and still had a longshot chance at the playoffs.
"It can have a positive (effect) if you play the way that we played and if you give the effort that we gave and if you play with the intensity that we played with," said Giants coach Tom Coughlin. "We have four games left and we have to win four games."
Manning completed 23-of-40 passes for 347 yards, three touchdowns and one interception.
The Super Bowl champion Packers next take on the AFC West co-leading Oakland Raiders (7-5), while the Giants visit the Cowboys in a crucial NFC East showdown next Sunday.
(Editing by Frank Pingue)